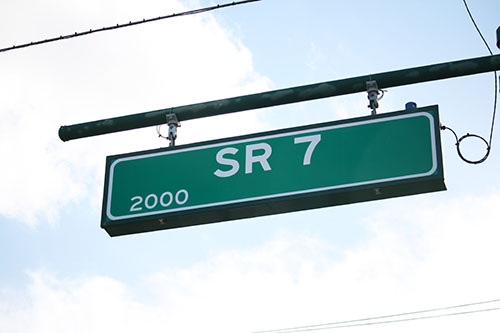 The State Road 7 extension plans to Northlake Blvd. are again under potential attack by the City of West Palm Beach, which has offered to pay the Northern Palm Beach County Improvement District (NPBCID) about $3 million to clean up waters at the city's Ibis Golf & Country Club in exchange for the city's ability to review the approval of the proposed road's stormwater discharge permit, which has expired, according to an NPBCID official.
NPBCID Executive Director O'Neal Bardin said that the district was scheduled to appear in a trial on May 13, where West Palm Beach was suing the district to clean up waters that were flowing from Ibis lakes into the city's water catchment area.
"The city asked if we would like to go into settlement negotiations, and we responded yes," Bardin told the Town-Crier on Wednesday. "We had spent somewhere in the neighborhood of a million dollars defending this thing, and the trial was going to cost us more, so we entered into negotiations."
As a result, the takeaway is that NPBCID has agreed not to issue any permits that would allow additional stormwater to enter the Ibis system without the consent of the City of West Palm Beach.
Bardin added that prior to the negotiations being settled, the permit that the district issued to the Florida Department of Transportation for the State Road 7 connection for discharge of water into Ibis had expired.
"We did not revoke the permit," he said, explaining that NPBCID cannot renew the permit without the expressed consent of the city. "That's part of the settlement. In addition, Northern must perform four plans that will increase the water quality in Ibis. The cost of those four plans is estimated to be about $3 million. Eighty-five percent of that cost will be paid by the city."
Bardin said that although West Palm Beach has the right to review the permit, it does not give it the ability to stop the road.
"West Palm Beach can refuse to consent to a permit from Northern, and then the road will have to have either a different outfall, or condemn the right of way necessary for the outfall without our permit, which they could have done three years ago, and we would have avoided these three years of litigation," Bardin said.
He stressed that FDOT can still build the road, but it might need to find an outfall other than Ibis.
"[On] the south side of the M Canal, there's three square miles of county water preserve," Bardin said. "They can discharge all their stormwater there. North of Northlake Blvd. there's a huge county wetlands system. They can discharge there, or they can condemn the right to discharge to Ibis. They can condemn our lakes in Ibis, and then they won't need a permit because they'll own them. The Department of Transportation condemns property all the time. That's how they build roads."
Indian Trail Improvement District President Betty Argue said she agreed with Bardin that the project could be redesigned to redirect the runoff either to the county's water preserve, or property may have to be purchased to create a holding area for the runoff.
"My position is that we need to have the road," Argue said. "It has already been partially built. It directs traffic through our community. That is not acceptable. It has never been an acceptable solution. There have been years and years of studies. This has been going on long enough. The commitment when Ibis was approved was that they would allow that road."
Argue believes that ITID might be able to help.
"I have not heard anybody take that approach, but I'll certainly ask our engineer about it," she said. "If we can assist in solving that problem, we would certainly do so. I think that our board would be supportive of doing that. There may need to be a redesign of the engineering for the drainage to make it go to something that's within Indian Trail property."
Argue added that the SR 7 extension is only four lanes, and that the state has enough easement to improve swales along the road. "They do have quite a bit of land along there," she said.
Royal Palm Beach Village Manager Ray Liggins said he is not worried about FDOT resolving the issue.
"I have confidence that FDOT will overcome this and get their permit," Liggins said, pointing out that the SR 7 right of way was originally permitted to be discharged through the Ibis drainage system 25 years ago. "Obviously, that was what FDOT pursued."
In the end, Liggins believes that this will be a stumbling block, but not the end of the project.
"It was disappointing to see that West Palm Beach figured another way to slow this up a little bit more," he said.