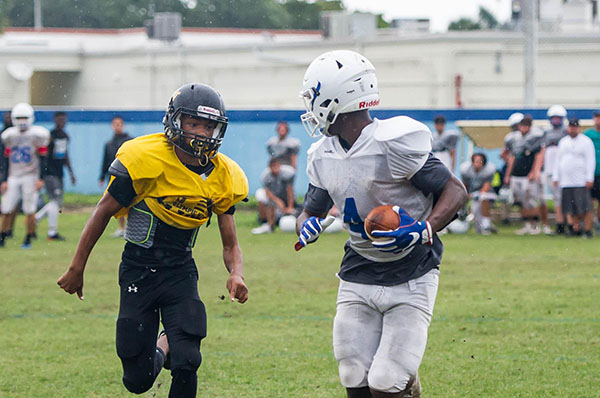 Keiser University hosted its second annual football camp from June 14 through June 16. The camp drew 10 teams from Palm Beach County and the Treasure Coast. The camp is limited to 10 teams in order to provide the necessary attention to each team during training sessions.
The Seahawks held their first camp last summer to promote their philosophy and culture of the game, Assistant Defensive Coordinator Cody Edwards said. "By keeping the number of teams [low] last year, the teams were able to get quality reps against each opponent they were paired with each day," he explained.
In just a short time, the camp has gained much notoriety, with several teams returning from last summer.
"I think it shows that we are definitely doing something right in terms of ensuring that each team gets some great work," Edwards said. "We try to do things just a little bit differently with our team camp, in comparison to what teams may see at other places. We provide them with an opportunity to get a wide range of situational work, scrimmage time, 7-on-7 play and individual periods instructed by our coaches."
The camp has grown in part due to the Seahawks' growing footprint on the football landscape in Palm Beach County and South Florida.
Teams opted to participate in either a residential camp or the commuter camp. Wellington High School's football program took advantage of the close proximity to Keiser's facilities and participated in the commuter camp. Programs that committed to the residential camp remained on campus grounds in dormitory facilities.
Wolverine head coach Tom Abel was impressed by the program. "Overall, it was a great camp. Our guys got better each day," he explained. "Keiser's camp is going to blow up, and it will be a lot fun to watch it grow, since it's in our back yard."
Abel added that the location was ideal for Wellington due to the affordability and the reduction in travel expenses. "It was the key to everything, and it was amazing," he said.
Keiser also utilizes the camp to evaluate potential prospects during camp exercises and team scrimmages. "We are always keeping an eye out for players who can come in to our program and enhance what we are already building — culturally, academically and athletically," Edwards said. "Recruiting is the life's blood of our game, and that process is never ending."
Abel was pleased with his team's overall performance. Balitan Celestin and Cornelius Butler both had a good showing at the camp in the slot receiver position. Joshua Shwartz, Jadien Durant and Lenori Williams excelled at running back. Wellington has three quarterbacks battling for the starting position — Austin Wallace, Matthew Shannon and Black Kendall — who all show promise, according to Abel. "They're battling for the spot, but supportive of one another," he said.
Most high school teams participate in various functions through the summer, such as camps and 7-on-7 tournaments. The efforts are to maintain a team chemistry to make for a smoother transition to the fall season.
For more information about the Keiser University football program, visit www.kuseahawks.com.