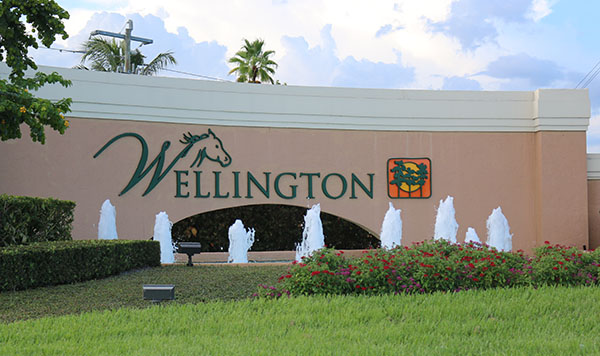 Wellington's Architectural Review Board approved proposed signage with a requested technical variance on Wednesday, June 20 for an orthodontic office in the Pointe at Wellington Green.
Simon Orthodontics requested that the board approve a technical variance, which was a request to have two same-size signs on both road-facing walls of the building.
According to village code, a building can have only one large primary sign, and others may not exceed 50 percent of the primary sign's size.
Because of Simon Orthodontics' specific location within the Pointe at Wellington Green plaza, its primary wall faces inward toward the shopping center, while its south wall faces Ring Road, and beyond it, the Mall at Wellington Green. Due to this unique location, an equally large sign was requested for the south wall so that those driving by can spot the orthodontic practice from outside of the plaza.
Simon Orthodontics will have a total of two signs of equal size on both its north and south walls. The signs will exceed the maximum allowed height by one foot and the allowed length by 16 feet, six inches. Where code typically keeps signage compact in the center of the store's façade, Simon Orthodontics requested approval for a sign stretching across the entire top surface of the store's front and back walls.
According to Wellington Senior Planner Kelly Ferraiolo, these signage measurement requests are not rare and have been granted to several other Wellington businesses surrounding the Mall at Wellington Green, such as Trader Joe's and Five Guys.
"The proposed design should not cause any negative offsite impact, as other tenants in the village have been granted the same deviations," Ferraiolo said.
The board approved the request unanimously, concluding that it would be beneficial for people to be able to see the larger signs while driving by or searching for the new Simon Orthodontics location.
"I drove down Ring Road yesterday, and you can't see [the sign] at all, and considering the speed and traffic on that road, it would be nice to have a little bit bigger sign for them," Board Member Miguel Alonso said.
The Pointe at Wellington Green is located at the southwest corner of State Road 7 and Forest Hill Blvd.
In other business, the board chose Ron Shamash as its new chair, with the board's previous chair, Tom Wenham, tapped as the new vice chair.