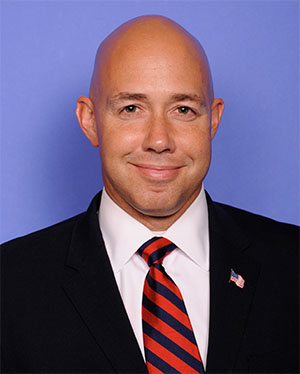 One of the three congressional districts serving the western communities promises to be among the most-watched U.S. House of Representatives contests in the nation this fall.
Florida's 18th Congressional District, which includes parts of Royal Palm Beach and all of The Acreage, as well as much of northern Palm Beach County and the Treasure Coast, is shaping up to be a high-interest match-up as first-term Republican Rep. Brian Mast seeks to secure a second term in a seat that until 2016 was represented by a Democrat.
Until 2016, it was the seat of Democrat Patrick Murphy, who did not seek re-election in order to wage an unsuccessful bid for the U.S. Senate. Mast took the seat, garnering 53.6 percent of the vote. He has been in the news recently when it was rumored he was under consideration for a position in the Trump administration as the Secretary of Veterans Affairs.
"It is an honor to receive the recognition [of being considered] for the great work we have done for veterans," said Mast, a highly decorated military veteran who lost his legs while deployed in Afghanistan.
Five candidates qualified to run for the seat: three Republicans and two Democrats.
Mast, who qualified by petition, faces primary challenges from fellow Republicans Dave Cummings and Dr. Mark Freeman, who paid the filing fee. Freeman lost to Mast in a six-way primary battle in 2016.
The Democratic primary features Lauren Baer, who qualified by petition, and Pam Keith, who paid the filing fee.
Mast's top priorities are water issues, efforts to stop the Brightline high-speed rail, beach re-nourishment, rebuilding and reforming the military and helping veterans. He said that no issue is more important than making progress on water issues: rehabilitating the Lake Okeechobee dike, updating flood control data, research and development on water filtration technology, and discharging water only when necessary in order to prevent algal blooms.
He sits on the House Veterans Affairs, Transportation & Infrastructure and Foreign Affairs committees.
"This was my first week as a member of the House Veterans Affairs Committee," he said. "In this new role, I'll have an even louder voice to advocate for veterans in our community and around the country. Improving care for our veterans starts with reforming the Department of Veterans Affairs and increasing oversight."
After retiring from the U.S. Army, he continued working in counter-terrorism and national defense with the Department of Homeland Security. Mast received a degree from the Harvard Extension School and volunteered to serve alongside the Israel Defense Forces.
His relatively moderate views on some issues — he came out in support of some gun control regulations after the Parkland shooting — have generated ire among more conservative members of his party and caused him to be considered vulnerable.
As the incumbent, however, he remains the odds-on favorite in the three-way Republican primary.
Cummings, one of his two primary challengers, said of his political effort, "We are a not a corporate or special interest funded campaign. We are 'by the people, for the people,' if that's not too corny."
Cummings is a Florida native who grew up on the Treasure Coast. His family goes back several generations as pioneers of old Florida. A local entrepreneur and teacher, his wife is a first-generation Colombian immigrant. They believe in legal immigration and partner in real estate and insurance ventures. Cummings fondly remembers growing up in the area and enjoys sharing the experience with his two children.
"I saw politics as usual and nothing gets done, so we decided you can sit by the sidelines or jump in, and I'm jumping in," Cummings said. "I had high hopes for Brian Mast. I voted for him, but he has turned on everything he promised, and I'm not the only one who feels that way."
Freeman, the other Republican in the race, has a campaign slogan of, "A true American, a true conservative working for the people." His campaign states that he is a strong supporter of the Second Amendment, is for increased military spending to increase the number of combat vessels, modernize the U.S. Air Force and the nuclear arsenal, and is for enforcing existing immigration law, rescinding DACA and "building the wall."
"If someone knocks on your door and asks for shelter, the compassionate thing to do is to let them in," he stated. "But if too many people knock on your door and you let them in, it no longer is your house."
Freeman also supports solving the region's water issues. "We need to fix the Lake Okeechobee dike and increase the capacity of Lake Okeechobee," he said. "For sea level rise, we need good water management, reservoirs/cleaning and pump stations."
Attorney Lauren Baer is considered the front-running Democrat in the two-way primary. She served as a senior advisor to the secretary of state, vice president and the U.S. ambassador to the United Nations during the Obama administration. She has also taken a case, regarding getting money out of politics, to the U.S. Supreme Court.
Baer, whose great-grandfather founded Baer's Furniture, is a graduate of Harvard University, Yale Law School and also has a master's degree from the University of Oxford, where she was a Marshall Scholar. She attended local public schools and was valedictorian of her class at Suncoast High School. Her current job is as a consultant for the global strategy firm Albright Stonebridge Group.
"My mother, who has been chronically ill, is one of the more than 74,000 constituents Rep. Mast would have denied healthcare when he voted last year to repeal the Affordable Care Act," Baer said. "My daughter is not yet two years old, but I think every day about her future, her safety and the world she will inherit."
Baer said she will fight for Florida's families. "What I want for my family is what we all want and deserve for our families: quality, affordable healthcare, a first-rate public education, a clean environment, a strong economy, common sense gun safety measures and a national security policy that does not beg for war by tweet," she said.
Baer believes that Mast is vulnerable. "It's because he voted to repeal the Affordable Care Act, took money from the NRA and attacked a woman's right to choose," she said, adding that a super PAC is spending millions to defeat her.
The other Democrat in the race is Pam Keith, whose father was in the foreign service.
"I was born while the family was posted in Turkey. Being raised in a U.S. diplomatic community, I learned that the most important thing about me was that I was an American, and that being an American was very special," she said. "It wasn't until I was six years old that I learned what it meant to be an African-American. I really didn't know anything about discrimination until we moved to Kentucky, [where] we were the only African-American family in our neighborhood. Those experiences fueled my passion to stand up for equality and justice."
Keith said she will advocate for this in Washington, D.C.
"Standing up for others is not just my vocation, it's my purpose," she said. "At a time when many feel voiceless, invisible voters are desperately seeking a champion. What we need now is not politics, but leadership."
She aims to be that leader. "I present voters with a hopeful but pragmatic vision," Keith said. "I offer new ideas, real proposals that constitute a clear departure from the status quo. I challenge voters to envision a better path forward, and to believe that our combined efforts will forge the future we seek for ourselves and our loved ones."
Keith said that America's fundamental principles are under attack. "While many of our most powerful officials are compromised in unprecedented ways, America desperately needs new champions and warriors in the fight," she said. "That is why this former Navy JAG is reporting for duty."
DISTRICT 20
Also featured on the Aug. 28 ballot will be a Democratic primary in Florida's 20th Congressional District, which includes parts of Royal Palm Beach and all of Loxahatchee Groves. The primary pits longtime incumbent Rep. Alcee Hastings against attorney Sheila Cherfilus-McCormick.
District 20 is a "C"-shaped district that runs from Fort Lauderdale through the Glades, taking in parts of the western communities and ending in the Riviera Beach area. It is designed to elect a minority, and it has done so since Hastings won the seat in 1992.
With no Republican challenger, the winner of the primary will take the seat, although write-in candidate Jay Bonner also filed to run. While Bonner seems sincere in his political interest, the move had the effect of closing the Democratic primary to interested Republican voters.
Legendary in some circles, and controversial in others, Hastings has publicly said this upcoming term will be his last. He was the first African-American from Florida in the House of Representatives since Reconstruction. He earned his law degree from Florida A&M University.
"Congress today is dysfunctional and partisan," Hastings stated. "It didn't used to be this way. I remember the days not so long ago when we could work across the aisle to get things done — the days when compromise wasn't considered a bad word. We cannot afford to let partisan bickering get in the way of progress for American families, even in this often-toxic political atmosphere."
Hastings' opponent Cherfilus-McCormick is an attorney, healthcare reform lobbyist and home health firm owner. "I don't want to be disrespectful, [but] I don't have time to wait," she told the Town-Crier. "We need someone to fight for us now."
Cherfilus-McCormick is a first-generation American whose mother immigrated to the U.S. at 16 to work as a maid while putting herself through college. Her father moved from the Dominican Republic upon completion of medical school. Before her marriage to a fellow attorney, Cherfilus-McCormick raised her learning-disabled daughter alone while working toward an MBA and putting herself through law school.
She said too often people try to boil a crisis situation down to one point instead of seeking a comprehensive solution. "School violence is a situation that involves more than guns and metal detectors," Cherfilus-McCormick said.
On important issues in general, she added, "Our voices are not being heard. We are crying out for our needs to be met. Our party isn't stepping up."
She cited the regulation of payday lenders as an example. "There is no traction, no movement. I can do better," Cherfilus-McCormick said.
Bonner, the write-in candidate for the position, said he seeks monumental social change by running for Congress. Since 1963, he has lived in northern Palm Beach County, attending local schools and Palm Beach Community College. In 1976, he began his career as a land surveyor, launching his own company, Sunshine Surveyors, 11 years later.
"Our country has conducted a social experiment that has removed the love of God and our neighbor from our lives," Bonner said. "My objective is to rally the faith community to get involved to make a change in government and save our country."
DISTRICT 21
Florida's 21st Congressional District is the final district serving the western communities. It includes most of central Palm Beach County and all of Wellington.
It is represented in Washington, D.C., by former West Palm Beach Mayor Lois Frankel — and it will continue to be for the next two years.
Frankel didn't draw an opponent in the Democratic primary or a Republican challenger in the general election by the time filing closed and won re-election by default.
"It is an honor to be re-elected," Frankel told the Town-Crier. "My first priority will be to continue to serve my constituents in Palm Beach County, standing up for our values and fighting hard for economic security for hardworking families and retirees. With the November election season approaching, I will be leading the efforts of the Democratic Congressional Campaign Committee to elect more Democratic women to the Congress. Currently, only 20 percent of the members of Congress are women."
For more information on the candidates, visit their individual web sites: Brian Mast, www.mastforcongress.com; Dave Cummings, www.davecummings.org; Dr. Mark Freeman, www.votemarkfreeman.com; Lauren Baer, www.laurenbaerforcongress.com; Pam Keith, www.electpamkeith.com; Alcee Hastings, www.alceehastings.com; Sheila Cherfilus-McCormick, www.sheilaforcongress.com; Jay Bonner, www.jaybonner.us; and Lois Frankel, www.loisfrankelforcongress.com.