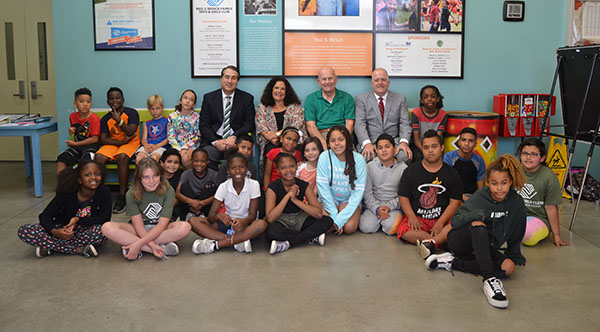 By Eve Rosen
On Thursday, June 7, the Wellington Community Foundation presented 20 local children with sponsorships to attend camp at the Neil S. Hirsch Family Boys & Girls Club for the entire summer.
The Boys & Girls Club is a not-for-profit youth development organization that provides a safe, nurturing environment and a fun and constructive alternative to being at home alone.
Attending the event on behalf of the Wellington Community Foundation was Tom Wenham, chair of the foundation, along with board members James Seder, Mickey Smith and Maggie Zeller.
"We are extremely excited to be able to support 20 kids going to the Boys & Girls Club summer camp for 10 weeks," Wenham said. "We are really happy, and we hope that the kids enjoy it."
This is the foundation's third year providing camp sponsorships, and Wenham is also happy that the campers will be provided with breakfast, lunch and dinner at the club all summer long.
Wenham added that he is glad to know that the 20 campers will be in an environment to have a fun and constructive summer. This will help them to develop good character and good leadership skills for their future, he added.
To learn more about the Wellington Community Foundation, visit www.wellingtoncommunityfoundation.org.