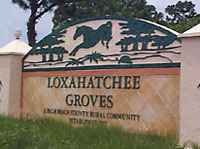 The Loxahatchee Town Council approved the preliminary reading of a proposed ordinance last week that would amend the town charter to allow long-term borrowing in order for residents who want paving to share the cost of improving their roads.
At the June 5 meeting, Town Attorney Michael Cirullo explained that the ordinance, which needs referendum approval, would change the requirements for some types of town borrowing from a repayment term of 36 months to in excess of 11 years.
The date of the referendum will be Tuesday, Aug. 28, concurrent with this year's primary election voting.
Planning & Zoning Committee Member Robert Shorr asked about an earlier long-term bond to approve paving using gas tax money as collateral that has to be repaid in three years, and Cirullo said that bond had been approved in a referendum.
Shorr said he felt that since there already is a mechanism where the town can get bond money for roads, he did not see a need for the ordinance.
"There's already a provision for us to go out and get money and have a long-term loan to do things like roads," he said. "I don't agree with this. I think the three-year term was put in there for a reason. I wasn't around for it, but I'm only guessing that they really didn't want to put the town in debt for an extended period of time. I'm not trusting that the leadership that's here now is trusting that the charter should be changed from what was put in 10 years ago."
Mayor Dave Browning said this ordinance is for residents who want to match the loan to pave their road.
"Unless we can have those people pay it back in three years, then nobody will be able to get their roads done," Browning said.
Vice Mayor Todd McLendon said that if the North B Road project is approved by residents, their 50 percent for their portion would go on their tax bill if the referendum is approved.
"Right now, we can borrow only as a town, [for] three years for them to do that," McLendon said. "So, if their portion was $10,000, they would have to pay that back in three years. If we change this, we can allow them to pay it back in a 10-year period instead of three, which will make it a lot more affordable for them to do it."
Former Councilman Ron Jarriel said the ordinance benefits residents. "I never did agree with the three-year payback, but I realize that for the town to get started, that was a secure thing," he said. "That was probably a wise decision."
He pointed out that the town is in more solid footing now.
"This town has been around 11 years now," Jarriel said. "We have revenue, we have gas tax funds. Hopefully, the [water control] district will become dependent to the town. We'll have more money coming in, but if this does not get voted in by the people, and if you don't approve it, the people are not going to be able to afford to get their roads paved."
Mary McNicholas, who chairs the town's Unified Land Development Committee, spoke in favor of the ordinance.
"This is an absolute no brainer," McNicholas said. "I commend you all; my family commends you all. We need this. I hope that this is a 5-0 vote. We're not buying a toaster. This is something that should be made affordable to us."
B Road resident Marianne Miles also spoke in favor of the ordinance. "As the representative of North B Road that represents 572.64 acres of B Road, please pass this," Miles said. "We cannot afford $240 per acre per year, so let's figure this out."
Miles said the current procedure could force her out of the community. "I've said it before, and I'll say it again, you're going to price people out of their homes," she said. "I don't want to put my home up for sale just because you decided to do a three-year loan instead of a 10-year loan, which all the paperwork and everybody that has signed so far, has agreed to do. Do they like a 10-year? No. Would they like it for free? Yes. Are we going to get it for free? No, but they cannot do three years."
McLendon said that if the referendum does not pass, he does not see the town being able to pave any roads in the community. "People are going to have a hard time already," he said. "If you triple their assessment, it's not going to happen."
Councilwoman Phillis Maniglia said the writers of the town charter had great intentions, but this issue has hamstrung the town.
Browning pointed out that the first board elected 10 years ago supported dirt roads, which were the accepted norm then.
"The idea of not having any debt beyond three years really protected the mentality of, 'We won't ever need paved roads, we'll just keep them all dirt.' Loxahatchee Groves has changed," he said. "I was one of the original [ones] here, and I'm telling you, I'm going to vote for this."
Browning added that the referendum, if approved, will stretch out the bond money that the town has to be able to do more capital projects.
McLendon made a motion to approve the ordinance, which carried 5-0.
Cirullo added that the council would hold a special meeting on Thursday, June 14 at 7 p.m. to conduct a final reading of the ordinance in order to get the referendum question to the Supervisor of Elections Office by noon the next day in time to get it on the ballot.