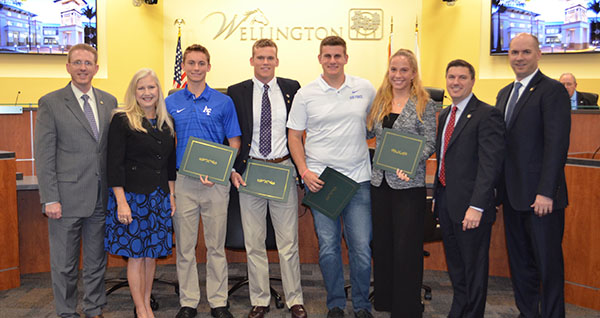 The Wellington Village Council congratulated four Wellington graduates Tuesday for their admission into the U.S. Air Force Academy in Colorado Springs and the U.S. Military Academy at West Point.
Zach Beatty, Wyatt Boswell and Michael Garofalo will be attending the U.S. Air Force Academy, while Nicole Wantlin will be attending the U.S. Military Academy. All student athletes in Wellington, the four graduates hope to continue striving in sports such as football, rugby and swimming while pursuing their higher education.
The students were honored for their hard work and determination shown by their admittance into the prestigious academies.
"This is an amazing accomplishment for each of the four of you," Councilman John McGovern said. "It is a very rigorous process. More than just being well-rounded and academically talented, they really try to access, to your core, that you will be the person who represents our nation at the highest levels of service, and we are very proud of you.