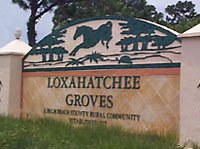 The Loxahatchee Groves Town Council, sitting as the Local Planning Agency, deferred a decision Tuesday on requested amendments to plans by developers of the 90-acre Groves Town Center at the northeast corner of B Road and Southern Blvd.
The decision was postponed due to numerous changes discussed at the meeting.
Some of the amendments, such as changes in ingress and egress, were necessary as required by the Florida Department of Transportation for sufficient separation of intersections on Southern Blvd. But others, such as postponing an equestrian bridge across Collecting Canal for access to a future equestrian trail, reducing the size of parking spaces and reducing the size of some buffers, were recommended for denial by town staff.
Attorney Scott Backman, representing property owners Solar Sportsystems and Loxahatchee Equestrian Partners, said that his clients were not looking to change uses on the property, but wanted to postpone building the equestrian bridge to the second phase of the project, and cited only a 15-foot buffer at the neighboring Loxahatchee Groves Plaza as their reasoning for reducing the buffer size.
The developer is proposing a maximum of 103,000 square feet of retail use, including an Aldi grocery store, a Wawa gas station/convenience store and a bank, a maximum of 44,000 square feet of medical/professional offices and a congregate living facility with a maximum of 128 beds.
Bradley Miller of Miller Land Planning Consultants, who has been working on the project since its inception in 2013, said it comes on the coattails of the nearby Palm Beach State College campus and the Publix shopping center known as Loxahatchee Groves Plaza. The three parties shared the cost of paving B Road.
"This 90 acres has been in play for a while," Miller said, explaining that they want to keep intact a 300-foot buffer on the north side and a 100-foot buffer on the east side, but reduce a 50-foot buffer on the south and west sides to 35 feet, and reduce the buffer separating Wawa and Southern Blvd. to 25 feet.
Councilwoman Phillis Maniglia asked if the Wawa project was necessary, explaining that she did not feel it fit in with the character of the town, and would prefer a car wash suitable for horse trailers and trucks instead.
Backman said the Wawa, Aldi and bank projects are uses that have been signed on, although there is still a process to go through with the town. "It's not part of what's before you tonight," he added.
Maniglia said she did not want Southern Blvd. to look like Military Trail.
"I personally am not thrilled about this," she said. "I'm hoping whatever else goes in there is a little more palatable. Wawa is a gas station that sells food. What we need is a car wash."
"We'll look into it," Backman replied, adding that the developer plans to construct an equestrian trail within the 300-foot buffer, but wanted to wait until the second phase to construct the equestrian bridge across Collecting Canal to the north.
During public comment Planning & Zoning Committee Chair Dennis Lipp said that the application went through his board in June.
"Why would you want to build a horse trail but not a bridge connecting it?" Lipp asked. "Most of the horses are not south of Collecting Canal [and] can't get to it. All of a sudden, we are putting horse owners to the north at a disadvantage. We recommended that it not wait. Right now, we really need to have that."
Lipp also responded to a Backman comment citing the economic advantages of the development. "All the money we're going to get is not going to cover police," Lipp said.
Unified Land Development Committee Chair Mary McNicholas said she hopes that the developer would take into account changes her board is making to the code, which includes landscaping.
Resident Ken Johnson said he did not like the Wawa concept, explaining that there is a gas station nearby. He did not like the potential noise, nor the developer's proposal to be able to keep the lights in the parking lot on all night.
Councilman Todd McLendon said the Wawa development has already been approved.
"We cannot tell them they cannot have a gas station," McLendon said, but added that he has not seen an existing Wawa that complies with the town's "rural vista" design guidelines.
Backman said that he hopes to get an elevation from Wawa that is more compatible with the guidelines and has talked with Wawa representatives about modifying the plans.
McLendon added that he does not agree with reducing the buffer sizes.
"You're looking for a smaller buffer," he said. "You pointed out that Publix had a smaller buffer, but we're learning from our mistakes."
McLendon added that he is against reducing the parking spaces and would like the lights off at night.
Town Attorney Michael Cirullo asked if the council wanted to make a recommendation to approve the amendments with changes, but McLendon did not support that idea.
"There are so many changes," he said. "I'd rather see it done prior to first reading."
Backman said that his client would not object to deferring the first reading.
McLendon made a motion to recommend a deferral, which carried 5-0.