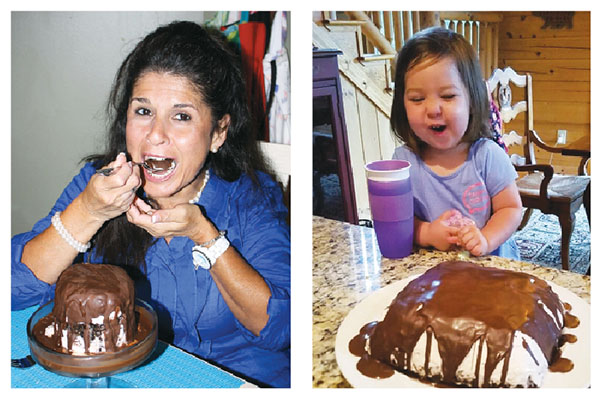 By Ray Burow
A Wellington family's personal tragedy struck on April 29 of this year.
Wellington residents Ed and Johanna Jurado would have celebrated 32 years of marriage in June, but Johanna was taken from Ed and their three children in a tragic car accident two months earlier.
Left reeling by the tragedy, the family took to properly mourning and celebrating the legacy of the wife, mother and grandmother. Johanna was also a popular teacher, who spent her career at several local schools.
Like any family experiencing great loss, the Jurados are left trudging through the terrible mourning process while learning to navigate life's new normal. However, the ways in which the family is choosing to respond to tragedy is somewhat outside the norm and really quite remarkable, even inspiring.
Jenna Jurado, Ed and Johanna's youngest daughter, came up with a brilliant idea. Johanna loved celebrating fun days marked on the National Day Calendar.
"We would check it every week and pick out some [days] to celebrate," Jenna recalled. "I know she would want me to continue the tradition and to find joy in each day since she passed."
As any grief counselor will attest, part of the mourning process is to work through all of the terrible firsts that follow a loved one's passing: anniversaries, holidays, birthdays, etc. In addition to Ed and Johanna's anniversary, Johanna's birthday was one of the first events that the family would celebrate without her.
Jenna decided to petition the National Day Calendar to celebrate National Ice Cream Cake Day on June 27, her mother's birthday.
The National Day Calendar doesn't grant days to individuals, but this wasn't a deterrent for Jenna, who decided to choose something that would signal great memories of her mother and would be meaningful to her family and friends.
"My mom was a master celebrator," she said. "She always made people feel loved, and even more so on birthdays. She was very big on fun traditions, and birthday ice cream cakes was one of the many family traditions we hold… If it was a celebration for mom, ice cream cake has to be there."
The National Day Calendar only chooses 30 days out of 18,000 submissions per year. The odds of Johanna Jurado's birthday being chosen as National Ice Cream Cake Day were low, but that didn't deter Jenna, who spearheaded the quest.
The National Day Calendar did, in fact, choose Johanna's birthday as National Ice Cream Cake Day. Jenna forwarded the congratulatory text she received from the organization to the rest of her family.
"It was emotional," Ed said. "I thought it was a beautiful tribute to Johanna. I thought that getting the national day, shares at least one of Johanna's traditions with the nation. I wish more people would have had the chance to know Johanna, and even though people who celebrate the national day still won't know her, my family will know that June 27 is her day and thousands around the country are now participating in one of her traditions."
Celebrating the first National Ice Cream Cake Day was therapeutic for the Jurado family and for friends, who knew Johanna in the community as a Palm Beach County educator and former minister to children and families at the West Campus of Family Church.
The Jurado family refuses to allow tragedy to define how they will respond to their great loss. "Our faith stirs us forward to celebrate her life very well-lived," Kaila Jurado Berger said of her mother. "How can we honor my mom's legacy and bring some joy to others? National Ice Cream Cake Day is a reminder for our family, our friends, community and now the nation to cherish every single day."
In addition to Ed and her three children, Kyle, Kaila and Jenna, Johanna left behind two grandchildren given to her by Kyle and his wife Ashley. The little ones are too young to grasp their immense loss, but their parents are confident that the National Ice Cream Cake Day will provide a wonderful opportunity to share with the kids just how wonderful their grandmother was and how much she loved them.
"We celebrated with them last week, and it was a blast," Kyle Jurado said. "Mom's birthday will be a special time for us to remember her and to share stories about her with the kids, but the opportunity to celebrate her birthday as a national day will make it extra fun."
The mourning process isn't an easy trail to blaze, but the Jurados are finding their way.
"Anything that keeps her memory and ministry alive helps us," Ed said. "That's one of the reasons we set up a foundation with First Care, to help women struggling with a difficult pregnancy. Johanna loved people, and she loved celebrating life. She loved making every day special and wanted to share her love for Christ with everyone. She would say, 'All you need to do to make the ordinary extraordinary, is a little extra.' She did everything with a little extra."