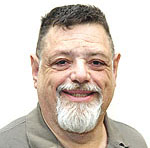 'I' ON CULTURE
It looks like Disney has another Marvel Universe winner with Ant-Man and the Wasp, a sequel to 2015's original film, Ant-Man. While not a masterpiece like Black Panther or a major entry like the latest Avengers film, it is an enjoyable few hours at the movies. This series entry is more or less structured as a family comedy with superpowers and special effects tossed in, and it works very well.
Scott Lang/Ant-Man (Paul Rudd) is spending the last few days of his house arrest at home, having been sentenced to two years there for helping Captain America in his battle against Iron Man et al. But he gets a vision of Janet Van Dyne (Michelle Pfeiffer) and, violating his parole agreement, contacts Hank Pym (Michael Douglas) and his daughter, Hope Van Dyne/Wasp (Evangeline Lilly). Within minutes, he's kidnapped and taken from the house, a violation of parole that his parole officer won't notice because his device is now attached to a giant ant, programmed to follow his routine. The ant bits are among the funniest sight gags in the film.
The main adventure consists of plans to enter the quantum universe, a place that is sub-atomic. In the first movie, Scott went in and managed to come out. Pym believes that proves he can get to his missing wife, gone for many years. Of course, nothing is that simple. Scott has to deal with his parole officer and the feds, his ex-con friends who work with him in a security company, a sleazy businessman/gangster Sonny Burch (Walton Goggins) who will do just about anything to get Pym's technology, and then there is Ghost (Hannah John-Kamen), a woman who has undergone a quantum accident and keeps "phasing" in and out of solid existence and wants the technology to save herself. That technology might also be the answer to solving the problems for the dead superheroes from Avengers.
Juggling all of these things takes a great sense of timing, and director Peyton Reed keeps the action moving and the mood light. A wild chase through San Francisco — those hills make for great street chases, especially when some of the cars and characters can get large or very small suddenly — is a highlight. And, of course, things are helped greatly by really good acting.
Rudd is perfect as Lang. He is self-effacing, perhaps the only superhero who can look at his young daughter and admit he messes up most of the time. And he manages to make a former criminal and goof-off seem like a really good guy and a worthwhile hero. Lilly is good as Hope/Wasp. She is a full (and often dominant) partner for Lang. She is the straight woman to Rudd's comedy, and she makes their very interesting relationship work. Abby Ryder Fortson is a very good young actress as Rudd's daughter. She holds her own with Rudd, avoiding the twin traps of being either overly cute or a brat.
Michael Peña as the leader of Scott's friends manages to get many laughs, although at times he approaches becoming a stereotype. Randall Park, as the "super straight man" parole officer manages to get a lot out of his part. Douglas does the cranky old obsessive guy really well, and Pfeiffer is appropriately lovely. Goggins has sleaze down to an art.
As I wrote before, this is a good time at the movies. The family relationships feel real, and the sight gags are great. Watching giant ants acting as Lang, taking bubble baths and playing drums, is great. And they just provide comic relief for a story that has more meaning than most superhero films.
The film is a worthy sequel to the first. There is very little in it about what happens in the overall Marvel Universe until the end credits, when several characters disappear. But it just whets the appetite for the next film.