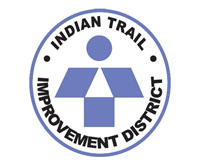 The Indian Trail Improvement District Board of Supervisors agreed to move ahead with efforts to activate the Santa Rosa Groves community as a unit of development after residents showed support for the idea at a workshop held Wednesday, July 25.
Santa Rosa Groves, composed of 98 lots of 5 to 20 acres on 640 acres west of Seminole Pratt Whitney Road and north of 60th Street North, has a history of drainage problems.
The area was submerged in up to four feet of water in some places after recent rains, leading residents to seek help from ITID, as well as Palm Beach County, the South Florida Water Management District and a recently formed homeowners' association that currently collects no maintenance fees.
Sitting in on the workshop were Palm Beach County Mayor Melissa McKinlay, County Administrator Verdenia Baker, as well as officials from the SFWMD and Palm Beach County Fire-Rescue.
"This meeting was the result of myself and Mayor McKinlay hearing from residents in Santa Rosa Groves and other inactivated areas of ITID for many years about their concerns regarding drainage, roads, fire-rescue, PBSO, waste collection, mail and personal deliveries," ITID President Betty Argue said. "The concerns started again in response to the extremely early wet season. After I had many conversations with residents regarding their concerns, Mayor McKinlay and I agreed that having a meeting bringing together all of the stakeholders would be the best path forward."
Argue noted that Santa Rosa Groves residents pay taxes to the SFWMD for drainage and maintenance of the regional system in the L-8 basin, which surrounds ITID. However, they do not pay ITID for local drainage services.
"The regional system is, simply put, what makes our swamp area even possible to reside in, but it still needs local drainage solutions to get the water to the regional system," she said. "ITID is the local drainage entity that Santa Rosa Groves is in the boundaries of. They are what we call an inactivated area of Indian Trail. That is to say, they do not currently pay taxes to ITID for local and internal drainage and roads."
In order for ITID to provide those services, Santa Rosa Groves would have to activate and pay assessment fees to the district, Argue said. She added that documents explaining the process had been provided to everyone, including 19 residents attending the workshop, who all indicated later that they wished to proceed with the process.
Argue said that ITID has the ability to assess each unit of development up to $50 per acre to cover the cost of an engineering study, attorney fees and the actual creation of a unit of development.
McKinlay said she and her staff were there to clarify the role of county services, and to stress that law enforcement and fire protection would be provided to the area no matter what the road conditions are.
"We also want to help mediate this situation because what some of the homeowners in Santa Rosa Groves are dealing with is dangerous and not acceptable," McKinlay said. "I hope that you can figure something out."
ITID Manager Rob Robinson presented a preliminary study that his staff had done of Santa Rosa Groves' needs and costs, which Argue pointed out may be partially covered through grant money.
"During this year's heavy spring events, Santa Rosa Groves was severely impacted by high water on roadways and on residents' properties," Robinson said. "Some property owners reached out to ITID to determine if there is anything that the district can do to alleviate flooding in the area."
Robinson said the assessment focused on what could be done to improve existing conditions and not re-engineering the site, which may be needed for complete compliance with district standards for water discharge and water quality requirements.
He said the main focus of the study was on Carol Street, putting 8 inches of fill on the road and installing culverts at several crossings. Drainage would be directed to a canal on 60th Street North. The other streets in the unit would have vegetation removed, culverts installed and 6 inches of fill placed on the roads.
Robinson added that the area has one discharge site currently permitted by the SFWMD, where two 8-inch water pumps would be installed within a fenced and gated compound with a shelter, at a total cost of $874,720. For bond financing over 10 years, he estimated a cost of $223 per acre per year for a million-dollar loan based on a 5 percent interest rate.
The total maintenance assessment after renovation he estimated at $212.12 per acre per year, not including a park and recreation tax.
"This is preliminary," Robinson said. "This would be for us to come in there every three weeks once everything is developed, grade the roads, make sure the canals are flowing, and any improvements that have to be done, we'll do them. This is a base formula that we use for all the other assessments that we do currently in the district."
ITID Engineer Jay Foy said he was concerned about allowable discharge, which is 1 inch per day.
"If you get a 10-inch storm, it takes 10 days to clear that if you don't have storage," Foy said. "The storage is currently in the ditches and on the lots. If the people want storage, there is an additional cost for buying land and making it into a lake or impoundment area, but that would all be part of the engineering study."
Santa Rosa Groves resident Eric Mitchell gave an update to the residents on how they got to where they are today.
Mitchell explained that the Cypress Groves neighborhood surrounding three sides of Santa Rosa Groves has control over Santa Rosa's discharge units and is also affected.
He said that Santa Rosa Groves was originally a citrus grove that was purchased and planted in the 1970s. In the development plan that was submitted to the state, the property was supposed to be transferred to a homeowners' association, but that never happened until just recently, 40 years later.
"Because of that, the homeowners' association not being active for the last 40 years, there were no dues collected as what the original design was. Therefore, there was no reserves to take care of the infrastructure inside of Santa Rosa Groves," Mitchell said. "We need the funding and money to get to where we need to be for fire safety, infrastructure, police and those types of things. With the flood that just happened earlier this year, we had some roads washed out."
Mitchell said that the swales and canals that are supposed to drain Santa Rosa Groves have been removed or filled with growth that impedes drainage. A pump that discharges stormwater at the single point was stolen years ago, and the structure that once housed it is so deteriorated that it cannot be restored.
Mitchell added that there are no control structures, and during rain events, when the water rises in Cypress Groves, it flows freely into Santa Rosa Groves.
One resident noted that there are nine homes built in Santa Rosa Groves, and several active nurseries, for a total of 18 to 20 developed properties out of 98 lots.
Argue asked for a show of hands among property owners who favored activating with ITID, and 19 responded favorably with none objecting.
The board agreed to begin discussion of the activation of Santa Rosa Groves at ITID's next regular meeting on Aug. 22.