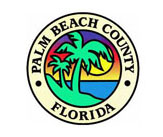 The Palm Beach County Commission approved the first reading of a fiscal year 2018-19 budget of almost $4.8 billion on Tuesday, higher than last year's budget, but keeping the same tax rate of 4.7815 mills.
Although the millage rate is unchanged from last year, an increase in property values would generate taxes of $897,961,450, which is $42,780,637 more than the rolled back rate of 4.5537 mills, which would bring in the same revenue as last year.
The hearing included an appeal by the public to include air conditioning at the Palm Beach County Animal Care & Control kennels.
The facility is budgeted for renovation, but kennel air conditioning is not currently included. Resident Linda Machado wrote of the need for air conditioning in the kennels.
"I have been a resident all of my life and all of my dogs are adopted from [Animal Care & Control] or Peggy Adams," she wrote. "The heat in Florida has gotten worse, and our animals shouldn't have to live in this heat. It's animal cruelty. Please provide air conditioning in the new building. It's the least our county can do."
Resident Nancy Goodman said the facility needs additional buildings, explaining that it currently has three kennels, two for adoptable dogs and one for dogs considered to be dangerous.
"Right now, there are three kennels. One and two are open to the public," Goodman said. "What has happened is that kennel three has become a receptacle for the overflow of dogs for whom there is no space in one and two, and these are dogs are not a danger to people, yet when they go into kennel three, no one ever sees them."
County Administrator Verdenia Baker said that about $21 million is budgeted from the infrastructure sales tax over the next four years to rehabilitate the Animal Care & Control buildings, with the first phase beginning in 2019, which includes the engineering and architect's drawings.
"We will be scoping out the renovations that will go on at the existing facility," she said. "Over the next three years, we will begin with the construction. The overall cursory renovations do not include air conditioning for the kennels. If that is the wish or the direction of the board, then we will need to work with the architect and engineer so that we can come up with an estimate of adding to the $21 million, for the air conditioning."
The response from commissioners was divided.
Mayor Melissa McKinlay pointed out that Miami-Dade, Broward and Orange counties have all constructed kennels with air conditioning, but Baker said that the county facility sustains its dogs at a high level, and air conditioning presents a disease control situation that requires a special system similar to hospital air conditioning.
Commissioner Hal Valeche said he would support providing air conditioning at the kennel but was concerned that Animal Care & Control Director Dianne Suave said that air conditioning can be unhealthy because it circulates germs.
"It begs the question, why do we air condition this building, because humans have germs, too," Valeche said.
Suave said that unless they spend extra money on a certain type of air conditioning system, it will make the situation worse.
"We can't just put the type of air conditioning system in a facility like you would put in a house or even in an office building," she said. "It has to be the type that you would use in a hospital situation."
Suave said that large fans are currently used in the kennels, which is not ideal, but gives comfort.
Commissioner Dave Kerner said he also supports air conditioning for the kennels, but Commissioner Paulette Burdick said that while she appreciated the public's concern about the dogs, she could not support spending the extra money when the county has children living on the streets.
"Living in hot weather, who are expected to go to school tomorrow with wet clothes, being hot, sweaty, bitten by bugs," Burdick said. "While I feel for our dogs and cats being uncomfortable with the heat, it concerns me more about the boys and girls who are living on the streets right now, and I would place them as a higher priority."
Suave added that the renovation plans are to upgrade the existing buildings, while Miami-Dade and Broward built new facilities that included air conditioning.
"These are buildings that were never intended to be air conditioned, so these buildings would have to go away and new buildings come into place," she said.
McKinlay said that there are at least three members of the board, including herself, who support looking into air conditioning.
"I would like to look into the possibility of doing this within the budget framework that we have of $21 million," she said. "I do share Commissioner Burdick's concerns. There are 3,000 homeless children on the streets. There's also a lot of seniors and a lot of families that take great comfort in having pets."
Returning to the budget, in accordance with the Truth in Millage rules, Baker said that the proposed tax rate is 5 percent over the rollback rate.
The library district's proposed rate of 0.5491 is 4.65 percent over the rollback rate of 0.5247 for a total of $54,641,698. Palm Beach County Fire-Rescue's proposed rate of 3.4581 mills is 4.9 percent over the rollback rate of 3.2966. The Jupiter Fire-Rescue rate of 1.9026 is 1.1 percent below the rolled back rate of 1.9237 for a total of $20,694,681, for an aggregate millage rate of 6.5789, 3.53 percent higher than the rollback rate.
Increases include the sheriff's budget, which would receive $33.7 million more in tax revenue. The increase for other constitutional officers, including judicial officers, would be $7,023,486.
The increase in the county operations net revenues is $24.6 million. The increase in non-departmental operations is $3.1 million. The increase in reserves is $23.8 million. The increase in other revenues is $11.9 million. The increase in capital projects is $5.3 million. The increase in debt service is $2.9 million. The increase in other funding sources is $3 million. The beginning balance brought forward is $33.1 million.
Baker said that the budget is balanced at the current rate of 4.7815 mills, with a total gross budget of $4.8 billion, of which $1.4 billion is the general fund, which has reserves of $131 million, up $23.5 million over last year.
The budget includes a 3 percent adjustment across the board for staff and a net increase of 82 new positions, which is still about 560 positions below 2008.
The budget includes $36.2 million in new capital funding, primarily for renewal and replacement projects. It also includes an increase in reserves in anticipation of an additional homestead exemption in fiscal year 2020.
General fund total appropriations of $1.4 billion include $666,919,859 (47.2 percent) to the PBSO, $75,303,470 (8.4 percent) to other constitutional officers, $356,269,333 (25.4 percent) to county departments, $130,988,835 (9.3 percent) to reserves, $114,767,206 (8.2 percent) to capital and non-departmental funds and $63,926,610 (4.5 percent) to debt service.
The second budget hearing and final adoption is set for Monday, Sept. 17. The new fiscal year beings Oct. 1