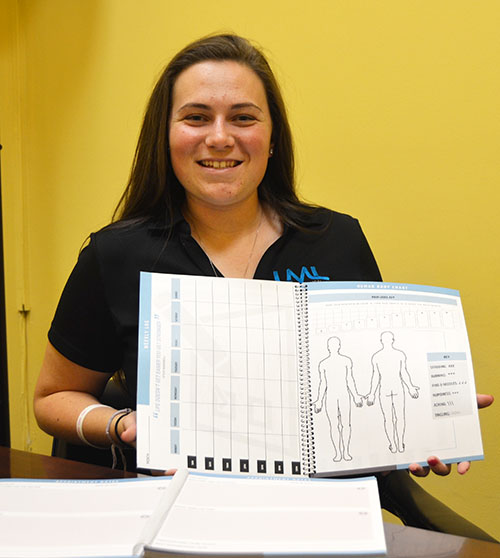 Jordan Ray lived a fairly typical Wellington life up until her junior year of high school.
Now 20, Ray lived with her father, John; mother, Robin; and younger brother Zachary. Her life was devoted to softball. She would practice every day and every weekend. During the school year, she would play for Palm Beach Central High School, and in the off-season, she would play travel ball with the Wellington Wild.
In early April 2015, Ray was touring Thomas University in Thomasville, Ga., and St. Johns River State College in Palatka, both of which were interested in her softball abilities. All of her years and dedication to the sport she loves were about to pay off. It should have been the best time in her life, but it soon became the worst.
In mid-April she was playing third base for Palm Beach Central in an away game against Seminole Ridge High School. As a third baseman, Ray had fielded numerous bunts over the course of her career, but this time something went terribly wrong.
"It was the first play of the game," Ray recalled. "I reached down to field the ball, but when I looked to make the throw to first [base], I hyperextended my neck. I blacked out and hit the ground."
It was an all-important district game, and she did not want to let her teammates down. She remained in the game for four innings, but she quickly realized something was wrong.
"I was experiencing dizziness," Ray said. "The lights. The sound. I was crying."
That is when the team's trainer decided to pull her from the game, but rather than seek treatment immediately, Ray remained to support her teammates.
Following the game, she returned home, but migraines, dizziness and other health issues kept her out of school for two weeks. Because of the pain in her shoulder and neck, her coach and trainer suspected it might be whiplash.
"There is something seriously wrong," Ray told her mother after experiencing 50 days of migraines.
In August 2015, Ray sought treatment and was brought to Dr. Michael Chaparro, a neurosurgeon affiliated with Palms West Hospital. Upon arrival, she was asked if she experienced issues with sneezing, which she reported often took her weeks to recover from. At that point, the staff had their suspicions, but it would take a CAT scan and MRI to confirm the diagnosis: chiari malformation.
"I didn't really process it," Ray said of her initial reaction. "I didn't understand what it was. What is chiari? What kind of disorder is it?"
She was speechless but credited an early medical crisis with making her more prepared.
"My mom had breast cancer a year earlier," Ray said. "It made me more mature and stronger. It would have been harder if I hadn't gone through that."
Support from her family was also crucial.
"My mom wanted to trade places with me," Ray said. "That always gets me. My friends didn't really understand it, but I had a huge support group for the surgery. They were really there for me."
Her surgery took place on Dec. 1, 2015 at Palms West Hospital and was performed by Chaparro. The procedure — known as a chiari decompression — lasted approximately eight hours and involved opening the back of her scalp and removing a portion of her skull. The goal of the surgery was to increase her cerebrospinal fluid (CSF) flow.
"By the time of the surgery, I had a grasp of what was going on," Ray said. "I was terrified everyday — he was going to open my head."
Following the procedure, Ray spent four days in the pediatric intensive care unit. Today, she is still dealing with loss of memory and concentration, as well as other recurring symptoms, such as tingling in her legs.
"I'm still trying to find the answers of why I'm still sick," Ray said. "My memory is a huge issue — it absolutely drives me crazy. I went from being a student athlete to someone with a chronic health issue that I can't seem to find answers to."
The illness, surgery and recovery resulted in her missing a large percentage of her senior year at Palm Beach Central. "I loved playing softball there — and I loved going there," Ray said. "My English teacher, [Jennifer] Brown, was incredible. I could talk to her about anything. She was the teacher you can go to talk about this when you need the extra help."
Now three years later, Ray is attending the Lake Worth campus of Palm Beach State College, where she is pursuing a four-year business and entrepreneurship degree. Unfortunately, she has not recovered to the point where can participate in softball.
"That's the dream," she said. "Every day, every weekend, you're practicing. The goal was to play college ball."
It would be cliché — perhaps even patronizing — to use the turn of phrase "when life gives you lemons, make lemonade" to describe the incredible journey Ray undertook in the wake of this life-changing crisis.
"When I first started, I had to start tracking how I felt and how many migraines I was having," she recalled. "I'd go to the doctor and forget everything. With the memory loss, how are you going to remember this? I don't even remember yesterday!"
Ray spent two years designing a book that patients could use to document their ailments. It includes areas to write down questions to ask your doctor, notes from the doctor visit, prescriptions and future appointments. There are diagrams of the human body where patients can specify specifically where they are experiencing difficulty. A calendar allows users to track their day-to-day progress. Each book is designed to last an entire year.
Ray named her company Limitless Medical Logs because, as she put it, "limitless is what our company can do to help you with your hard times." She self-funded her company and paid for everything herself. Despite her academic responsibilities Ray remains 100-percent committed to the company.
"It's my baby," Ray said. "I am so passionate about this product. I want to help people. I want to have this book in every doctor's office, hospital and clinic. I want it in everyone's hands who is struggling with a health issue. It makes my life and management of my health so much easier."
There is also the added therapeutic benefit of writing down how one feels, and it includes a section to document your story. Each log book has inspirational quotes interspersed between sections to help patients who sometimes experience depression and hopelessness over the course of their treatment.
"When I was going through hard times — and there were very hard times — looking at a simple quote helped me get through the day," Ray said.
Despite sometimes feeling down, she remains optimistic.
"This really stinks. I wish that it would go away. There's no cure, but I can manage this because I have this," she said, referring to Limitless Medical Logs. "It has made everything easier. It makes me excited to get up and to get the product out there and help so many people."
Regardless of what the next chapter of her life story brings, Ray plans to remain in Wellington, where she has lived since she was four. "This is all I can remember," she said.
To learn more about Jordan Ray's company, visit www.limitlessmedicallogs.com.