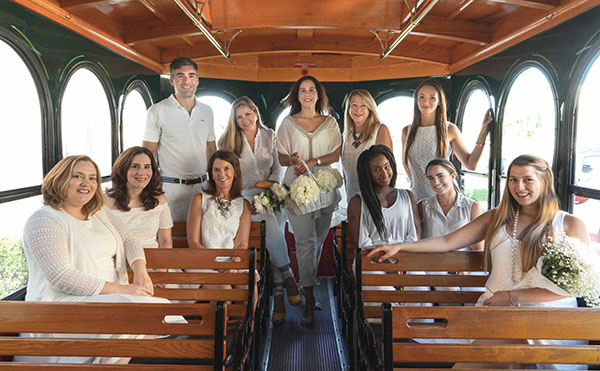 Plans are underway for a white-hot night of fun at Dreyfoos in White 2018, all to benefit the arts and academic curriculum at the Dreyfoos School of the Arts.
Dreyfoos in White committee members are putting all of the details in place for an unforgettable night at the white-themed pop-up dinner party to be held at a secret location. The location will be revealed one hour prior to the event, set for Sunday, Oct. 21 from 5:30 to 9:30 p.m.
The sixth annual Dreyfoos in White will feature all of the excitement and festivities that have made this a must-attend event of the social season.
At Dreyfoos in White, guests dress in all white and host their own al fresco dinner party, competing for prizes for their table décor ranging from elegant to comical or whimsical. Some guests bring simple fare, others stage an extravagant feast, while others opt to purchase their meals from the prix fixe menu provided by the Lord's Place Joshua Catering. The Dreyfoos School of the Arts Foundation does the rest — providing tables, chairs and sparklers to light up the night. Participants take to the dance floor with entertainment provided by Girlfriend Material, a band comprised of Dreyfoos alumni. Dreyfoos in White also includes a prize drawing with tickets available at $25 each or three for $50.
Tickets for Dreyfoos in White are $55 and are now available at www.soafi.org with proceeds benefiting the Dreyfoos School of the Arts Foundation. Sponsor tables for 10 are also available with premier seating starting at $1,000.
This year's Dreyfoos in White committee includes: Katherine Bewley, Lauren Carey, Mary Beth Crane, Darlene Dzuba, Tiffany Faublas, Jessica Fontaine Swift, Heather Graulich, Allison Rogers Haft, Camila Helander, Nick Kassatly, Jason Lowe, Amy Price, Kimberly Ramia, Alice Randolph, Kristy Smith, Sarah Turner, Bibi Van Arnam, Jessica Vilonna and Penny Koleos Williams.
For more information, call (561) 805-6298 or visit www.soafi.org.