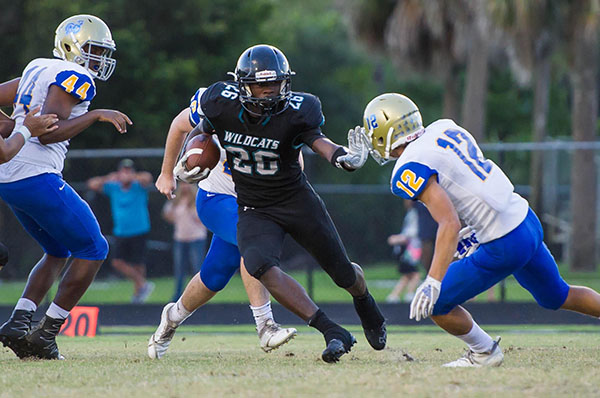 On Friday, Sept. 21, the Royal Palm Beach High School football team hosted Cardinal Newman High School in a non-district contest. The Wildcats had difficulty overcoming early miscues despite a late rally and suffered their fifth-straight defeat, 45-12.
Royal Palm Beach (0-5) opened the game with solid offense on the Wildcats' first possession, moving the ball to midfield. A fumble started a chain-reaction of miscues that created a growing challenge for the Wildcats as the game progressed.
The Crusaders were able to get on the board first, on the team's first offensive series, off a 31-yard touchdown run to take a 7-0 lead. Despite a three-and-out for the Wildcats on the next possession, the defense kept them alive. Penalties on the Crusaders helped the Royal Palm Beach cause. The Wildcat defense held a fourth and short, forcing Cardinal Newman to a 45-yard field goal attempt that fell short.
The Wildcats appeared as though they were gathering some steam, but an early interception on the drive gave the Crusaders the ball deep on the Wildcats' side. Two plays later, the Crusaders scored again to make it 14-0 late in the first quarter.
After a third and long with a couple of miscues, the Royal Palm Beach offense managed to move the chains to sustain a drive. With a third and one, a wild snap pushed the ball way back for the Wildcats, forcing a punt. Another high snap from special teams gave Cardinal Newman the ball inside the 10-yard line for the Crusaders. One play later, the Crusaders took a 21-0 lead to start the second quarter.
On the ensuing kick return, Royal Palm Beach responded with a big return, only to cough the ball up, turning over possession. The Wildcat defense was working overtime and still managed to hold a stubborn Crusader offense to a 27-yard field goal to make the score 24-0.
Royal Palm Beach's offense gained some momentum with a drive to midfield for the second time in the game, but another turnover stalled the chance of rallying to close the margin before the half.
Royal Palm Beach's Ketron Hadley and Kenel Beaubrun added touchdowns in the second half to close the gap on the Crusaders, but the Wildcat defense could not stop the Crusader offensive attack. Cardinal Newman added another 21 points in the second half to keep the win out the Wildcats' grasp and notched the 45-12 victory.
Royal Palm Beach, still looking for a win, will be one the road Friday, Sept. 28 for a 6 p.m. district match against Palm Beach Lakes High School.