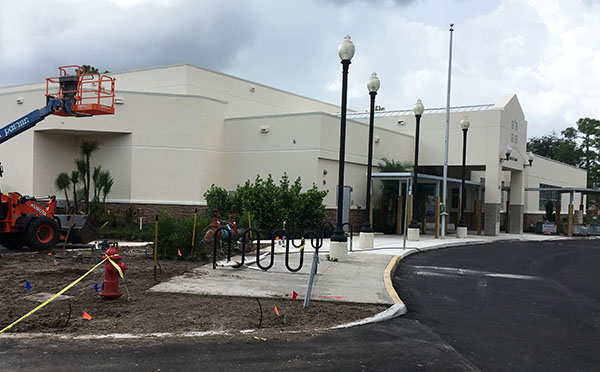 By Denis Eirikis
It's not by accident that Royal Palm Beach boasts such diverse and robust recreational programs — many people work behind the scenes to help make that happen. Among them are the members of the Royal Palm Beach Recreation Advisory Board, who met Monday, Sept. 24 to hear updates on a wide array of recreation programs and park projects planned throughout the community.
One of the highlights of the meeting was that Parks & Recreation Director Lou Recchio reported that the renovation of the Royal Palm Beach Cultural Center is on track and expected to be completed by mid-November. The village is already accepting bookings for Cultural Center events scheduled for January forward.
Recchio went on to say that a grand reopening of the facility is being planned in partnership with local business and civic groups. "We want as many people as possible to see the great new facilities that we have available for rent," he said.
Board Chair John Riordan said that the renovated and expanded facility will be a great asset to Royal Palm Beach.
"The newly renovated and expanded Cultural Center will be the crown jewel of the village's ongoing efforts to provide recreational, cultural and educational opportunities to residents and visitors," he said.
The facility will be able to handle up to five groups at one time and features a "grand ballroom" with four additional meeting spaces. Vice Mayor Selena Smith, council liaison to the Recreation Advisory Board, noted that the council has discussed naming each of the meeting spaces after village neighborhoods, such as La Mancha and Crestwood.
Board members were briefed by Village Engineer Chris Marsh, who gave a presentation on planned capital improvement programs expecting to be funded in part by the Palm Beach County Local Discretionary Surtax.
For fiscal year 2019, the village is expected to receive just over $7 million from the surtax. The Recreation Advisory Board is tasked with overseeing that money and making sure it is used properly.
"The surtax fund can be used for expenditures associated with the construction, reconstruction or improvement of public facilities that have a life expectancy of five or more years, as well as any associated land acquisition," Marsh explained.
For some projects, the village is employing a strategy to actively seek outside grants and use the surtax money as funding for the local match.
Recreation-related projects on the list include: safety lighting for a bicycle pedestrian path along the FPL right of way, as well as for pedestrian paths at Royal Palm Beach Commons Park; new access points for Commons Park from surrounding neighborhoods; new lighting for two fields at the Bob Marcello Baseball Complex; an all-access playground at Commons Park; Todd Robiner Park pathway resurfacing; lighting at the Camellia Park tennis facility; improvements to the Commons Park Sporting Center and improvements to the Royal Palm Beach Recreation Center.
Smith encouraged staff to consider using solar lighting whenever possible. Recchio explained that the lighting upgrades will all incorporate greener technology, including solar and LED, which will save the village substantial energy costs. He said some lighting being replaced is in excess of 30 years old.
Marsh advised the board that the village is in full compliance with the rules and requirements of the surtax program.
Village staff also gave reports regarding ongoing recreational programs, senior programs and camps/instructional programs. Turnout for the senior programs is exceptionally strong this year. For example, the Young at Heart Club already has 285 people registered, compared to 228 at this time last year. The October luncheon is already sold out with almost 230 tickets sold.
The village's popular camp programs will be expanded this year with a new Black Friday Camp, where parents can drop off children at the Recreation Center while shopping or recovering from shopping. There are also camps scheduled around the holiday season.
Program Supervisor Sheryl Sawyer was especially pleased to announce that the village has contracted a third yoga instructor. "Yoga is one of our more popular programs, so we will now also start offering everything from workout yoga to meditation instruction — great ways that village residents can reduce stress and increase the quality of their lives," Sawyer said.
Deputy Director of the Parks & Recreation Mike Mikolaichik then briefed the board on upcoming events.
October events include an Oct. 5 food truck invasion and concert in Commons Park; "Rocktoberfest" set for Oct. 13-14, which is a first-ever event with all the best things of the Fall Fest incorporated in, but with an emphasis on rock music and Halloween, featuring a haunted woods walking tour, costume contests and more; an Oct. 26 movie night and food truck invasion at Commons Park featuring Hotel Transylvania 3; and an Oct. 30 "spooktacular" concert by the Royal Palm Beach Community Band at Crestwood Middle School.
Events coming up in November include a Nov. 11 Veterans Day service at Veterans Park and the Fall Fantasy Craft Show, returning to Veterans Park on Nov. 17.
"This community should be very proud of the way we try to bring enrichment and recreation to all of our residents, from the very young, to the young at heart," Board Member Phyllis Katz said.
This coming year, the Parks & Recreation Department is expected to provide facilities, programs and services that will attract more than one million visits to Royal Palm Beach facilities, with 900,000 residents and visitors projected to visit Commons Park alone.