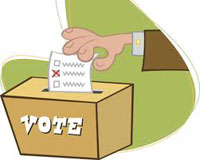 On Tuesday, Nov. 6, Palm Beach County voters will select two supervisors for a little-known public agency known as the Palm Beach Soil & Water Conservation District.
While the five-member board does not have the authority to levy taxes or enforce laws, it does work with county residents and businesses on protecting natural resources, promoting best management practices and environmental conservation.
Two board seats — Seat 1 and Seat 5 — have drawn five candidates, including one incumbent.
SEAT 1
Board Chair Marc Tancer is the current occupant of Seat 1, but he is not seeking re-election. There are three candidates contesting for the seat.
David Legg — Legg lives in Boynton Beach and considers himself retired. He is married with two children. He has a degree in agriculture from Oklahoma State University.
Legg is running because he wants to help with the current programs by seeking out public and private funding. If elected, he wants to concentrate on promoting and assisting the agriculture industry and outreach with public education.
Legg touts his nearly 30 years of experience of working with the group as a cooperating partner during his time with the United States Department of Agriculture (USDA) Natural Resources Conservation Service.
Michelle Sylvester — Sylvester lives in Lantana and works as a manager at a skin cancer pathology lab. She has lived in Palm Beach County for 16 years and is originally from Miami. Sylvester graduated from the University of Miami with a degree in business management.
"I think that we have not paid enough attention to the water quality issues we have here," Sylvester said. "I'd like to bring new energy to the district and our communities that are threatened."
Sylvester would like to "elevate the posture of the district" so that it wields more influence. "The district does not hold any purse strings. It does not hold any legislative power to force legislators to do anything," she said. "We pretty much have to cajole people to bring fresh, clean water to our urban areas and take care of our [agricultural] requirements."
Ian Wellinghurst — Wellinghurst lives in Tequesta. He is a student at the Palm Beach Gardens campus of Palm Beach State College. He also works at a restaurant. He has lived in Palm Beach County for four years and previously lived in Fryeburg, Maine. He moved to live closer to family, who relocated to Jupiter 15 years ago.
"My dad was with the forest service in the White Mountains," Wellinghurst said. "I grew up believing in land conservation. With oceans, lakes, the Everglades, I thought there'd be good conservation here, but it doesn't seem to be that way. I threw my hat in the ring to bring some different ideas."
He would like to see the different levels of government working together on conservation issues.
"The individual municipalities are doing a lot of good work, but either aren't on the same page as to what's working or what's not working, or the people of the county don't know what they're doing," Wellinghurst said. "I'd like to see them work together on the environment."
SEAT 5
Seat 5 is also being contested, with incumbent Eva Webb seeking re-election against challenger Mark Beaumont.
Eva Webb — Webb lives in Royal Ascot Estates in the Acreage/Loxahatchee area. She has served several terms on the board and has been a past chair. She works as a field representative for the Florida Farm Bureau and wants to continue her work helping to protect the natural resources of Palm Beach County.
Webb also hopes to continue helping the agency promote conservation and educating the public about why conservation is important. She lamented the loss of the district's urban mobile irrigation lab and hoped that with grant funding and donations, the program could be brought back.
Mark Beaumont — Beaumont has lived in Jupiter since 1989. He owns Auto Art Vinyl Graphics, which makes vehicle wraps and signs. He graduated with a fine arts degree from Rutgers University and originally relocated to the area to serve as the resident set designer at the Burt Reynolds Dinner Theater.
"I've always been interested in the environment," Beaumont said. "I'm interested in the unintended consequences of development. Where I grew up in New Jersey was a new development — the front of the home fronted a creek. Developers moved a lot of land around and didn't pay attention to topography, and piled edges of dirt on property to smooth it out. Over 10 to 15 years, land started to break up and restore to the natural topography… I really appreciate what we have environmentally, and I want to protect that."
Beaumont would like the agency to take a more active role on environmental issues. He would like to work closely with other conservation districts on more regional aspects.
"We can't do any legislation, but we can be advocates for the environment," he said. "Coming from an advocacy and educational standpoint, I feel that my artistic abilities and public relations abilities would help elevate the Soil & Water Conservation District to where we could help the environment."
Learn more about the Palm Beach Soil & Water Conservation District at www.pbswcd.org.