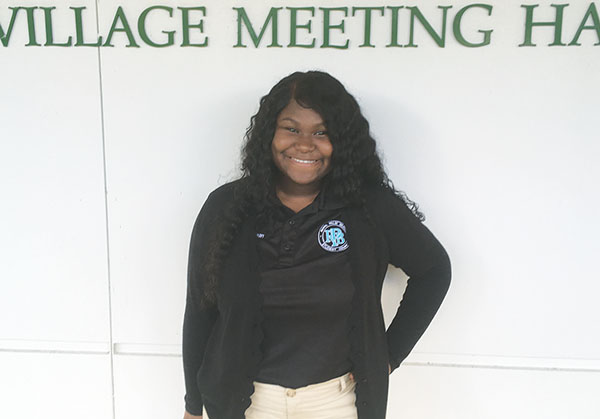 By Denis Eirikis
Royal Palm Beach's newest school principal, as well as the youngest member of the Royal Palm Beach Education Advisory Board, spoke during the board's Monday, Oct. 15 meeting, and both had similar messages: community partnerships are crucial to education.
Bruce Saulter, a Royal Palm Beach resident for five years, was warmly welcomed as he gave the evening's feature presentation in his new capacity as principal of Cypress Trails Elementary School. He emphasized community and stakeholder partnering as some of his top priority goals.
Chrisyndia Jean, who just turned 18 last week, serves as a non-voting member and student liaison of the Education Advisory Board. In her capacity as student council president at Royal Palm Beach High School, she provided an update on the many events and activities at the school and emphasized the importance of teamwork.
The themes of partnering and teamwork seemed especially appropriate as village officials, residents, parents, students, teachers, principals, administrators and the area's elected school board member gathered to discuss and plan how Royal Palm Beach public schools can be even more successful.
Cypress Trails, like all of the village's public elementary schools, boasts the grade of "A" from the Florida Department of Education.
"We are an 'A' school now, but my goal is to increase our scores in all areas," Saulter said.
He shared that one of the ways that he plans on improving student performance is to create better community partnerships.
"A main goal this year is to increase the publicity of Cypress Trails Elementary School and to inform our families, stakeholders and the entire Village of Royal Palm Beach about the many ways that we support every child to reach his or her highest potential," he said.
In his former role as assistant principal at Seminole Trails Elementary School, with its proximity to the Ballpark of the Palm Beaches, he was able to forge partnerships with Major League Baseball, having mascots visit the school and teams donating prizes and incentives for academic achievement.
Saulter said that he has already started forging partnerships in Royal Palm Beach.
"We hope to have more events out in the community for our families to attend. Our PTO is beginning to reach out to local restaurants, but if anyone is interested in becoming a business partner, they can contact our main office at (561) 904-9004," he said. "We will recognize businesses in our school newsletter, send home information, and recognize them in other ways, like our school marquee and social media."
During her report to the board, Jean gave several examples of team-building at RPBHS.
"We had a very successful dodgeball tournament recently, where representatives of the school's numerous clubs and organizations that normally do not interact with each other, came together as one Wildcat family," she said.
RPBHS also works on teaming with the community.
"We do a lot of partnering, but one of my favorite business partnerships is where the school teams with a supplier to sell Christmas trees," Jean said. "Students learn to work with others, and we develop business and life skills that will prepare us for successful careers."
She also said that the student council itself, representing about 2,200 students, works as a partnership with teachers and administrators.
RPBHS Principal Dr. Jesus Armas agreed and pointed to Jean's leadership on the student council as crucial to the school's success.
"Education is most successful when the faculty and the student body team together," he said. "Chrisyndia's leadership on campus sets a positive tone. Her tireless work ethic and wonderful attitude inspire positivity in not only students, but also more than a little of her energy and enthusiasm rubs off on faculty and staff."
Palm Beach County School Board Member Marcia Andrews congratulated both Saulter and Jean for their presentations.
"Education is all about partnerships and teaming," she said after the meeting. "Right now the village, the school system and the Town-Crier are all teaming to get the community involved with the successful education of students in Royal Palm Beach."
The Royal Palm Beach Education Advisory Board meets the second Monday of every month in the Village Meeting Hall at 6 p.m. For more information, visit www.royalpalmbeach.com.