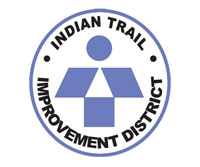 The Indian Trail Improvement District Board of Supervisors received community feedback in a workshop Wednesday, Oct. 17 about the condition of horse trails in The Acreage — and the consensus was that they are badly in need of care.
ITID President Betty Argue said the workshop was to answer questions about the district's equestrian trails and receive comment as to what the community would like to see improved.
"I've been hearing some different ideas from community members, and one of the most important things in our role on the board is to hear from the community, discuss it and have a plan," Argue said.
At one point, ITID did some trail planning, which did not come to fruition. ITID Manager Rob Robinson referred to a map that was dated 2006.
"That showed four phases of equestrian trails, but it didn't have any timing laid out," Robinson said.
Phase 1 had a trail laid out to run along Grapeview Blvd. from Orange Blvd. up to Northlake Blvd., with another segment on Cheetham Hill Blvd.
Phase 2 was planned for 130th Avenue North along the east side of the M1 Canal, Grapeview Blvd. north of Northlake Blvd., as well as a small section near Hamlin Park.
Phase 3 was a county project that ran along the M Canal from 110th Avenue North to Little Gator Lane to the pump station and then back east to the M2 Canal.
Phase 4 was to run along 110th Avenue North from 60th Street North to 40th Street North, and also along Banyan Blvd., zig-zagging from Seminole Pratt Whitney Blvd. at 93rd Road North and along the M2 Canal to 60th Street North.
ITID Engineer Jay Foy said the maps were the result of a planning committee led by former Supervisor Mike Erickson in an attempt to satisfy members of the equestrian community.
"As I recall, the board never officially adopted anything to put it in the budget," Foy said.
Supervisor Ralph Bair said there were plans dating back to 1993 where a supervisor got county help on plans for horse trails that went west from West Palm Beach to Lake Okeechobee.
"Nothing ever got done about it," Bair said. "We picked it up again in 1998, and we actually started to research the trails. The trails had gotten overgrown. They had wire dumped in them and all kinds of other materials. Roadside debris was dumped out alongside the roads, and we would pick it up. We were looking at trying to clean up the equestrian trails, but the more we tried to clean them up, the more people dumped, because they knew it was going to be cleaned up."
In 2007, the board picked up the topic of equestrian trails again, focusing on the Royal Palm Beach Pines Natural Area, but the parking area was small.
"They wouldn't let us into that area anyway, so there was a conflict there," Bair said.
Argue said there are provisions at Acreage Community Park for a horse trail and equestrian parking area at the southeast corner of the park, which will go before Palm Beach County this month for a permit.
"We'll do what we have to do to have the permit and the parking," she said. "We can go for a grant and look at putting some water and a couple of other things the county is going to want us to have. However, anything over and above that is going to require some additional planning and funding. What we have to decide now is what we do next."
Argue stressed that it is important to preserve the area's equestrian community.
"With all the development that's going on around us, I feel like our equestrians are getting pushed out," she said. "What I hear from residents is that there is no safe way to ride anymore."
Supervisor Jennifer Hager said her priority is to make the trails safe to ride.
"Different kinds of people are moving out here, and they don't have the same respect that we might when we're driving," Hager said.
Resident Melissa Bednarik, who is a member of Western Equestrian Shows & Trails, said she has volunteers who are willing to work with ITID and make donations to improve the trails.
"Just tell us where to aim and what we need to do. We are willing to do it," Bednarik said. "We are willing to make things happen. I know you guys have made the effort to drive around and look at these trails and crossings. I'd like to see some signs posted."
Bednarik said she used to keep her horse near Hall Blvd. a mile away from the Nicole Hornstein Equestrian Park, but she did not like the ride along Hall to the park.
"Getting to the park was so hair-raising along Hall," she said. "It was dangerous. I loved boarding there. One of the best things was being so close, but getting there, you took your life in your hands."
Bednarik said there are many people in the community who don't know about horses, and whatever could be done to raise awareness of driver courtesy toward riders would help.
Robinson said there are a number of things within the budget, including new signage and additional mowing, that ITID staff is working on. "What we're planning right now is adding another mowing cycle during the summertime," he said.
Resident Dixie Thiery, a new member of the Acreage Landowners' Association and a member of Western Equestrian Shows & Trails, said there aren't many places like The Acreage.
"I'd really like to see us preserve and expand upon what we have here and not lose it to incoming development or non-equestrian-experienced residents," she said. "A suggestion we had as members was improved signage and consistent signage."
Thiery said she has seen a variety of different equestrian-related signs in the area that are often unclear as to their meaning or hard to read, and that educational signs might inform drivers of such things as not to honk their horns as they pass a rider.
She said the Florida Statutes notice to "use reasonable care" when passing a rider is not defined.
"Maybe we should define that, since we are an equestrian community," Thiery said. "Maybe it should be '20 miles an hour,' maybe it should be 'stop when a horse is crossing.' I don't know. It is in the statute, but how is it interpreted?"
Thiery would like to see better upkeep of the trails, as well as the signs and an updated trail map. She said it would be costly, but a split-rail fence between the trail and the road would improve safety.
"I would like to see, if possible, a connection at the north end of The Acreage to the J.W. Corbett Wildlife Management Area, as well as to other communities like Loxahatchee Groves, Deer Run and White Fences," she said.
Thiery added that she would like to see a designated horse crossing at Seminole Pratt Whitney Road and watering stations along the trails.
She suggested fundraisers by Western Equestrian Shows & Trails to assist in paying for some of the requests. "We hope to develop a working relationship with ITID," Thiery said.