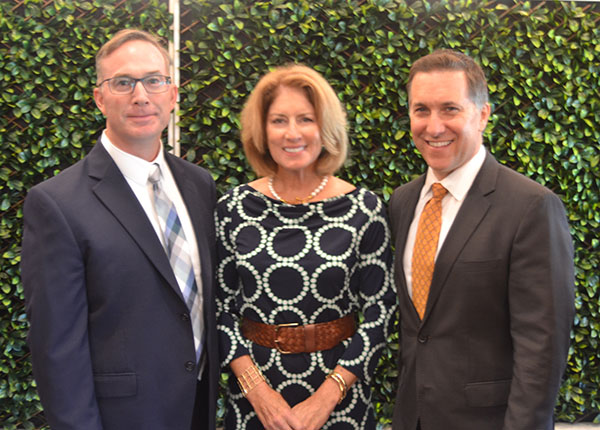 The Wellington Chamber of Commerce's luncheon on Wednesday, Sept. 26 featured State Attorney Dave Aronberg speaking on the subject of corporate theft and fraud.
Aronberg has been the state attorney for the 15th Judicial Circuit since 2012. Prior to that, he was an assistant attorney general, Florida state senator and White House fellow.
Originally from Miami, Aronberg earned both his undergraduate and law degrees from Harvard University. He was a litigator in South Florida and worked to help investigate European insurance companies that would not honor World War II-era policies sold to Holocaust victims.
Appointed a White House fellow in 2000, he worked as a special assistant to the Secretary of the Treasury investigating money laundering.
The white-collar division of Aronberg's office deals with cases involving money laundering, organized schemes to defraud and elder fraud. There are currently 400 active cases being worked on by a team of four prosecutors, two financial analysts, an investigator and three professional staff members.
The white-collar crimes unit has achieved close to a 90-percent conviction rate.
Aronberg listed several ways that employers can be more diligent in preventing corporate fraud. These include performing thorough background and financial checks and having more than one employee review accounts payable. He also advised comparing QuickBooks to accounts, never keeping pre-signed checks and never using auto-signed checks.
Proving fraud can be difficult. Often times evidence is destroyed, and witnesses go missing.
"They don't look like they'd steal from you," Aronberg explained. "In their minds, they don't believe they're a criminal. They consider it a nonviolent crime against a corporation."
Aronberg shared statistics that showed how 56 percent of employees lie on their résumé. "References are not enough," he stressed.
Aronberg explained that there is sometimes confusion among victims between the difference in a civil fraud and a criminal matter.
"When it's a contract dispute, it's civil," Aronberg explained. "When it comes to finances, it's trickier."
Prosecutor Michael Rachel from the white-collar crimes unit was also on hand and briefed the members of the chamber on several noteworthy cases from the world of corporate fraud.
The case of Charles Abel in Boca Raton resulted in $235,000 in theft. He had a great résumé, but a civil judgment against him of $435,000 went undetected on a basic background check because it occurred in South Carolina. He misused a company's credit cards and checks after convincing his employer to go paperless. He received six years in prison. "Never go paperless," Aronberg told the crowd.
The next case discussed involved Jessica Hess, who stole $370,000. She had company funds deposited directly into her accounts. She also received six years in prison. "She was a great employee," Aronberg quipped sarcastically. "She was phenomenal at changing documents."
One case in Jupiter involved a long-term employee. Rhonda Baker worked 10 years with a printing company that had been in business for 40 years. She pled guilty to stealing funds but fled. Ultimately, she was caught and sentenced to eight years in prison. Unfortunately, the money could not be recovered, and the company went out of business.
Wellington Councilman John McGovern, who was in attendance at the luncheon, used the opportunity to ask Aronberg about the recent opioid legislation making its way through Congress including the Eliminating Kickbacks in Recovery Act. Aronberg crossed party lines to work with U.S. Sen. Marco Rubio on the issue.
"We've cracked down on sober homes," Aronberg said. "We've reduced opioid deaths in Palm Beach County. The evil of patient brokering started here. It's the largest federal response to the opioid crisis."
Aronberg has been a leader in the fight against the opioid crisis and has appeared on Dopesick Nation on Viceland to discuss the issue. In July 2015, he created a Sober Homes Task Force that has made more than 55 arrests for patient brokering and insurance fraud.
While the opioid crisis continues, Aronberg's crackdown and other actions to fight the epidemic appear to be having an effect. From January through April 2018, Palm Beach County saw a 62 percent drop in opioid overdose deaths over the same time period in 2017.
Aronberg closed by discussing the subject of animal cruelty.
"You can tell a lot about a society by how it protects its most vulnerable — including pets," Aronberg said. "This job allows me to set my priorities, and I take felony animal cruelty cases myself."
At the luncheon, Wellington Chamber of Commerce President Roxanne Stein used the opportunity to welcome several new business leaders into the chamber who were in attendance and also highlighted several upcoming events.
The chamber will be hosting several events throughout the month of October, including a Speed Networking event at the Wellington National Golf Club on Wednesday, Oct. 17 at 6 p.m. and a Ghost Hunting & Cocktails event at the Riddle House at Yesteryear Village on Wednesday, Oct. 24 at 6:30 p.m.
Visit www.wellingtonchamber.com for more information about the Wellington Chamber of Commerce.