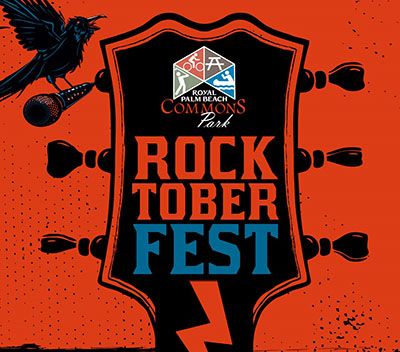 By Denis Eirikis
The Village of Royal Palm Beach will host its first ever "Rocktoberfest" at Royal Palm Beach Commons Park on Saturday, Oct. 13 and Sunday, Oct. 14. The free event runs from 11 a.m. to 9 p.m. on Saturday and 11 a.m. to 7 p.m. on Sunday.
"We have taken all the best aspects of our Fallfest event, all the successful ones, but we have expanded it to two days and amped this up to more of a rock 'n' roll theme," explained Mike Mikolaichik, Royal Palm Beach's assistant director of parks and recreation. "We also changed the date to earlier in October so that there will not be a conflict with Halloween."
Last year's Royal Palm Beach Fallfest was held on Oct. 25.
In lieu of the traditional hayride, families can explore a new "Haunted Woods Walking Tour," which event organizers describe as a "Scare Factor Level 2." This means that the quarter-mile tour may scare sensitive children and adults. For those brave enough, cross the bridge to "Zombie Island: A quarantined place of containment for the undead to roam." Zombie Island is rated at "Scare Factor Level 4," designed to scare children and adults.
There will also be a Kids' Fun Zone, where children can ride daily unlimited rides with $10 bracelets, as well as a new trackless train where children and their families can take a complete tour of all the festivities on the Great Lawn. Blackbeard's Pirate Ship offers a memorable photo opportunity with costumed pirates.
There will be a costume contest for infants to adults on Saturday at 11 a.m. and a pet costume contest at 3 p.m. on Sunday. Pre-registration for the contests starts about an hour before the events.
Rocktoberfest is described by the village as "featuring fun all day for the entire family." The event boasts a pumpkin patch, petting zoo, fall crafts and a variety of vendors. There will be cold beer for purchase, a classic and custom car show from 11 a.m. to 4 p.m. on Sunday, a gourmet food truck expo and five rock bands.
Live entertainment starts Saturday at 1 p.m. with the Brass Revolution, a band that describes itself as resembling groups like Chicago, Earth Wind & Fire and Blood Sweat & Tears.
Saturday at 4 p.m., the Lazy Bonez invites fans to break out the leather, spandex and hairspray, and get ready to have a "head-banging good time." Lazy Bonez' repertoire consists of heavy metal and rock bands like Judas Priest, AC/DC, Ratt, Dio and more. The tribute band Kissed Alive rocks the stage starting at 7 p.m. on Saturday. The band describes itself as "from Kiss fans, for Kiss fans."
Sunday's rock entertainment starts off at 1 p.m. with Completely Unchained, a Van Halen tribute band, and the Spazmatics take the stage at 5 p.m.
Free parking is available throughout the park. The village invites attendees to avoid traffic and come early. Expect traffic delays. Bring lawn chairs, sunscreen and a blanket for a day of fun for all ages.
Visit www.royalpalmbeach.com for more information.