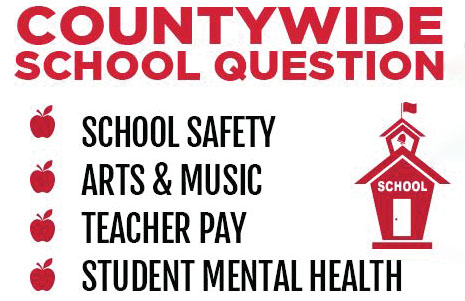 Among the many items before all Palm Beach County voters during the general election will be a question placed by the Palm Beach County School District to provide additional school funding.
The wording of the school district's referendum is as follows: "Shall the School Board of Palm Beach County have authority to levy 1.00 mills of ad valorem millage dedicated for operational needs of non-charter district schools to fund school safety equipment; hire additional school police and mental health professionals; fund arts, music, physical education, career and choice program teachers; and improve teacher pay, beginning July 1, 2019 and automatically ending June 30, 2023, with oversight by the independent committee of citizens and experts?"
School district officials have warned of shortfalls if the levy is not approved. Amity Schuyler, chief of staff to superintendent Dr. Donald Fennoy, portrayed a dire situation when speaking to Royal Palm Beach officials last month.
"We will be $50 million short in two years if this does not pass," Schuyler said.
School district officials believe that the levy is necessary due to a lack of support from state lawmakers. For the 2018-19 fiscal year, only an additional 47 cents in funding was approved per student in the State of Florida.
If approved, the levy will address four major needs.
First, enhancing school safety would involve adding more school police officers and funding safety equipment.
Secondly, hiring additional school counselors and mental health professionals. This would also include social workers and social psychologists.
Thirdly, improving teacher pay for experienced teachers and maintaining current teacher staff levels. A full-time teacher with between one to four years of experience would receive a $1,000 retention supplement, while a teacher with five to nine years of experience would receive $5,000. A teacher with 10 or more years of experience would receive $10,000. These supplements would count toward a teacher's Florida Retirement System (FRS) pension benefit, unlike other state bonus programs.
Finally, the money would keep strong arts and music education by funding 650 art, music, physical education, health, choice and career teachers.
Revenue generated by the proposed levy would be divided across those key areas with 0.25 of the 1.0 mill levy (approximately $50 million) going toward funding teacher programs in relation to the arts and physical education. The same amount would be dedicated to school security and mental health programs. The final 0.50 mill (or $100 million) would go toward keeping experienced teachers in the classroom by improving their pay.
The levy would replace a smaller tax that was approved by voters in 2010 with 66 percent of the vote and renewed in 2014 with 79 percent of the vote. That levy sunsets this year. Money from that tax currently pays for the 650 teachers for art, music, physical education and choice programs.
The school district receives half of the one-cent sales surtax that was approved by voters in 2016. However, those funds can only be used for infrastructure projects, such as school repairs, renovations, classroom technology, school buses and support vehicles. None of the money from the sales surtax can go to teachers.
While some people believe that money from the Florida Lottery goes to fund schools, very little of that revenue makes it way to Palm Beach County and also cannot be used to fund the programs proposed by the levy. The majority of the lottery funds go to the Bright Futures scholarships for graduating seniors and higher education.
If approved, none of the money from the levy will go to charter schools. Only traditional schools operated by the Palm Beach County School District will benefit from the funds.
Voters in Palm Beach County will be given the opportunity to vote on the countywide school issue during early voting, absentee voting by mail and in person at polling places on Tuesday, Nov. 6. For more information, visit www.strongschoolspbc.com.