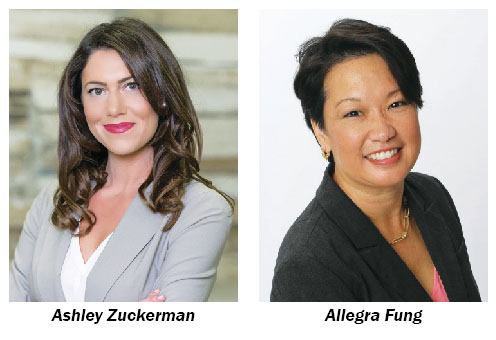 By Chris Levy and M. Dennis Taylor
Attorneys Ashley Zuckerman and Allegra Fung emerged from a crowded primary field of five candidates vying to replace recently retired Judge Peter Evans in the Palm Beach County Court Group 4 seat.
Zuckerman, who took 30.01 percent of the vote in the primary, will square off against Fung, who took 23.83 percent of the vote, on the Tuesday, Nov. 6 general election ballot.
If Fung is elected, she will make history by becoming the first judge of Chinese descent elected in Florida.
Living in Jupiter Farms, Fung is 43, married and has two children. She completed her bachelor's degree at Florida State University and her law degree at the St. Thomas University School of Law in Miami.
Fung touts her mix of criminal and civil judicial experience.
"Whichever one of us wins will either be placed on the civil or criminal court," Fung said. "I am the only candidate with experience in both and ready to start on day one."
The experience Fung speaks of is 18 years of experience as an attorney in Palm Beach County. This included three years in the Public Defender's Office, where she tried hundreds of cases with an emphasis on domestic violence and juveniles. Following that experience, she went into private practice as a criminal defense attorney.
In 2009, she made the switch to civil law and joined Groelle & Salmon where she represented insurance companies. In 2011, she moved to her current firm, Korte & Wortman. For the past seven years, Fung has worked on defending homeowners in foreclosure cases.
"Listening to women in domestic violence cases, juvenile offenders and homeowners over my career made me understand how important it is that everyone be heard," Fung said. "If elected, I will use my experience in these cases to make sure that I listen to everyone who comes before me."
Visit www.fungforjudge2018.com to learn more.
Zuckerman said that she is running because she believes in the importance of having a fair and efficient courtroom — one where everyone is treated with respect and the rights of all are protected.
"I have dedicated my entire legal career to serving the public of Palm Beach County, and I wish to continue that role as judge," Zuckerman said. "I have tried more than 70 jury trials to verdict and handled hundreds of hearings, motions and bench trials. I am currently a supervisor at the Public Defender's Office, where I train and supervise the new attorneys on ethics, trial preparation and case management. I have been in a Palm Beach County courtroom almost every single day of my legal career."
Zuckerman believes that she has the demeanor, trial experience and knowledge that is necessary for the job.
"I have a strong work ethic and put myself through college working as a teller at Bank of America," she said. "I went to Florida Atlantic University and graduated with a bachelor's degree in English. I went to Nova Southeastern University for law school and interned through law school at the Public Defender's Office. After graduation, I took a position with the Public Defender's Office and have worked my way up to my current position as a supervisor."
Zuckerman said she is proud of the support that she has gotten from many people in the community. "I believe in working hard and serving your community, and I am proud and honored to be a candidate for county court judge," she said.
Visit www.zuckermanforjudge.com to learn more.