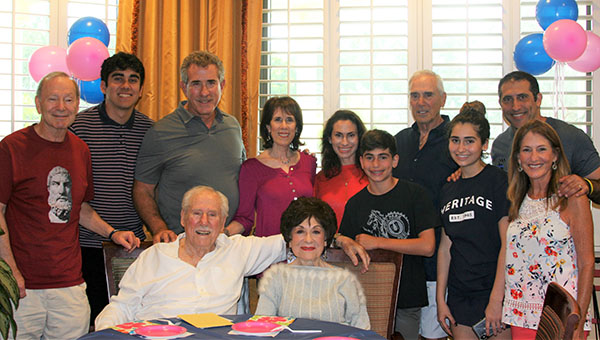 By Callie Sharkey
Harold and Sylvia Levine celebrated their 77th wedding anniversary at NuVista Assisted Living in Wellington on Friday, Nov. 2. Family, friends and staff joined the party, complete with balloons, cake and live entertainment.
"Every day, when I walked outside, he was there," recalled Sylvia with a smile.
The couple grew up together on the same street in New York. Harold Levine was a diehard Yankees fan, living in the heart of Brooklyn.
"I would know if the Yankees won or lost just by the look on his face," Sylvia said.
The couple married in 1944. Harold was in the U.S. Navy for three years and stationed in Miami for a time. Eventually, he was shipped to the Pacific region.
"I was a radio man," Harold said.
One of their children, Dr. Bruce Levine, recalled visiting Hawaii and searching for where his father was stationed.
"I found the actual palm tree where he carved his initials. All these trees and buildings from that time were gone, but the tree my dad carved was still there on Oahu," Bruce said.
When his time in service ended, the couple moved to Long Island, where Harold Levine ran several shoe stores. Sylvia graduated college and became an interior decorator.
"She's an artist," daughter Sherry Barnett said. "She did acrylic and oil painting, too."
Bruce described his mother in fond detail.
"She is an outstanding cook and always very poised," he said. "She never left the house without being put together."
In 1999, the Levines became full-time Florida residents, and less than a year ago moved into NuVista Living at Wellington Green.
Director Felicia Fisher said that the couple is very involved in their community.
"Sylvia is so creative. She is the editor of our monthly Resident Spotlight," Fisher said. "Harold instigated this entire party from the colors to the music. He told me their anniversary was coming, and we had to have a party."
The parents of four children, the Levines also have nine grandchildren and 15 great-grandchildren. During their anniversary celebration, all four generations were represented.
How does one reach 77 years of marriage? The couple was quick to answer the question.
"It's easy," Harold said. "Her favorite phrase is, 'Yes, dear.'"
"Be happy and have chocolate," Sylvia added.
They made light of the question, but anyone can see they are still the closest of friends.
"They have breakfast and lunch together every day in the dining room," Fisher said, "just the two of them."
For more information about NuVista Living, call Felicia Fisher at (561) 598-5402 or visit www.nvliving.com.