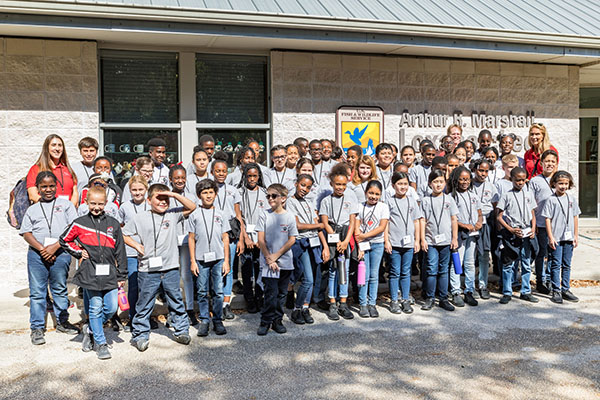 Fifty-two students in the fourth and seventh grades at the Sacred Heart School had a chance to explore the Everglades and its unique environment, through the lens of a camera. On Nov. 7, the students were taken to the Arthur R. Marshall Loxahatchee National Wildlife Refuge in western Palm Beach County, with photography mentors, teachers and parent chaperones for a hands-on nature experience.
Each student was provided with a digital camera and on-site additional photography equipment. Afterward, students roughly edited their photos to have one printed to take home, and then they submitted their photo cards for judging by professional photographers.
This annual Sacred Heart School program, "The Everglades: Through the Eyes of Children Photo Project" is a community effort working with the Everglades Foundation, the Arthur R. Marshall Loxahatchee National Wildlife Refuge and the Norton Museum of Art.
The project begins earlier in the fall, with environmental education provided by science experts from the Everglades Foundation, an educator to discuss photography and camera usage from the Norton Museum of Art and in-class discussion and instruction from Sacred Heart School teachers.
The Photo Project program culminates with a private, gallery reception and photo exhibition at Findlay Galleries in Palm Beach on Jan. 24, 2019. James Borynack, chairman and CEO of Findlay Galleries, is hosting the event for Sacred Heart School and will display the top 24 photographs and recognize the first, second and third place winners.