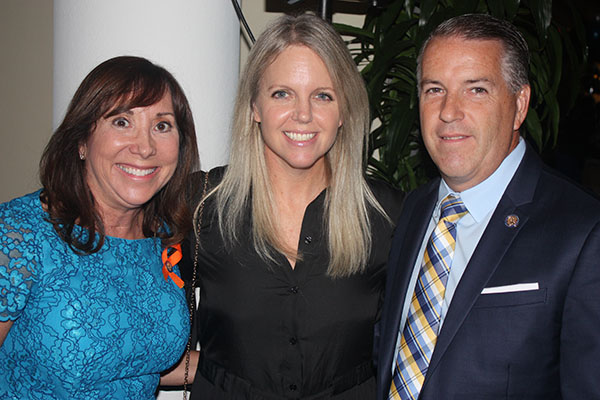 Amid a night of close races in the general election, State Rep. Matt Willhite (D-District 86) was re-elected handily in his rematch with Royal Palm Beach businesswoman Laurel Bennett. Bennett, the Republican nominee in both 2016 and this year, lost to Willhite by 20 percentage points.
District 86 includes much of the western communities, including all of Wellington, Royal Palm Beach and Loxahatchee Groves, as well as several communities to the east. It tends to favor Democrats.
Willhite received 39,736 votes, or 59.85 percent, while Bennett garnered 26,657 votes, or 40.15 percent.
"I appreciate the opportunity to serve and that the citizens elected me and then re-elected me," Willhite said. "We increased our percentage [of victory] even with thousands more people voting."
Willhite said that the first thing he had to do was say "thank you" to a lot of people. He attributed his win to working across the aisle to get things done.
"It doesn't matter what party you are, if you work hard and do your job," said Willhite, who explained that as the incumbent, he has a staff and team in place and is ready to continue his work in Tallahassee. "We have seven pieces of legislation we are working on, and the next Palm Beach County Legislative Delegation meeting is scheduled."
Willhite served as vice chair of the delegation last year and hopes to continue in a leadership role when the delegation meets to choose its new officers on Thursday, Nov. 15 at Palm Beach County Fire-Rescue Headquarters.
Willhite said that he and the other legislative leaders want to find out what other things the citizens want them to focus on. "We will get right on those," he said.
Just to the north, State Rep. Rick Roth (R-District 85) was successful in keeping his seat in Tallahassee, fending off a strong challenge from special education teacher Ellen Baker.
District 85 includes most of northern Palm Beach County, including much of The Acreage. It tends to lean Republican, and it did, re-electing incumbent, first-term representative Roth, head of Roth Farms, which is located in the western part of the county.
Baker did make the race closer than many expected. Roth received 44,723 votes, or 54.67 percent, while Baker received 37,081 votes, or 45.33 percent.
Nearly 600,000 voters cast ballots in Palm Beach County, with more than 8 million statewide. Florida produced extremely close races for governor and senator. However, on ballot issues, the races were not particularly close.
Of the 12 statewide questions on the ballot, all appear to have passed, with the exception of Amendment 1, the increased homestead property tax exemption. That amendment got more than 58 percent of the vote, but it fell just short of the 60 percent required for passage.
All the other amendments got past the 60 percent requirement for approval, including an initiative to restore voting rights to felons after they serve their sentences, a ban on dog racing and a litany of other constitutional changes.
Citizens in Palm Beach County voted to provide additional funding for schools with "yes" votes on the countywide school question amounting to 382,178, or a resounding 72.37 percent, and the "no" vote drawing 145,911, or 27.63 percent.
One local congressional seat, District 18, consistently made national news this year because of its potential to switch from red to blue. However, it was not to be.
Once the Democratic seat of former U.S. Rep. Patrick Murphy, who vacated the seat in 2016 for a failed bid for U.S. Senate, it was won two years ago by Republican Brian Mast. He fended off a well-funded challenge this year from Democrat Lauren Baer, a consultant for a global strategy firm who previously worked in the Obama Administration.
Mast, a highly decorated military veteran who lost his legs while deployed in Afghanistan, received 185,453 votes, or 54.35 percent, while Baer received 155,746 votes, or 45.65 percent.
Carrying over from August's primary election, this week's ballot pitted the top two challengers emerging for three Palm Beach County 15th Judicial Circuit Court seats in nonpartisan contests.
Scott Ryan Kerner prevailed over Alcolya St. Juste in the Group 13 contest, earning 251,748 votes, or 54.13 percent, compared to St. Juste's count of 213,310 votes, or 45.87 percent.
In Group 18, Maxine Cheesman defeated Marybel Reinoso Coleman, receiving 271,405 votes, or 58.96 percent. Coleman received 188,899 votes, or 41.04 percent.
In Group 25, Sarah Willis defeated Michael McAuliffe. Willis took 270,303 votes, or 58.30 percent, while McAuliffe garnered 193,305 votes, or 41.70 percent.
There was one Palm Beach County Court race on the ballot, which was a contest to replace recently retired Judge Peter Evans in the Group 4 seat. Ashley Zuckerman won the seat with 242,333 votes, or 52.89 percent, while Allegra Fung received 215,842 votes, or 47.11 percent.
In the race for the Palm Beach Soil & Water Conservation District, Group 1, Michelle Sylvester bested two rivals, taking 242,802 votes, or 56.13 percent. David Legg received 128,253 votes, or 29.65 percent, while Ian Matthew Wellinghurst received 61,511 votes, or 14.22 percent.
In the race for the Palm Beach Soil & Water Conservation District, Group 5, incumbent Eva Webb garnered 253,822 votes, or 60.06 percent, to defeat Mark Beaumont, who took 168,791 votes, or 39.94 percent.