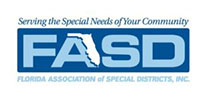 The Florida Association of Special Districts is preparing for an active year in 2019 with Tanya Quickel, director of administrative and financial services for the Village of Wellington, serving as president of the statewide organization.
There are dozens of special districts in the State of Florida. Locally, there is the Acme Improvement District controlled by the Village of Wellington; the Loxahatchee Groves Water Control District, which is now part of the Town of Loxahatchee Groves; the Seminole Improvement District, controlled by the City of Westlake; the independent Indian Trail Improvement District, which provides drainage, road and recreation services in The Acreage; and others, large and small, such as the Pine Tree Water Control District and the South Florida Water Management District.
Quickel said that FASD has several meetings planned with legislators in 2019 and urged local leaders to be active in bringing home decisions from state officials that are beneficial to local government.
"Special districts are limited-purpose government, and you really see a lot of the importance in emergencies, hurricanes and disasters," she explained. "Many of the fire districts across the state are special districts. We have a mosquito control district, and they do worldwide work on diseases like Zika."
Reviewing the past year, Quickel said the legislative team headed by Chris Lyon and Natalie Kato of Lewis, Longman & Walker guided FASD through the constitutional review process and the 2018 legislative session and the general election, which resulted in the defeat of the proposed additional property tax exemption that could have been damaging to the financing of local governments.
"None of this would have been possible without the support and active participation by FASD's membership," she said. "Whether you're a staff member at a small district or an elected official… grassroots advocacy is at the heart of our success as a group."
Quickel encouraged local officials to host their local legislators and staff for tours of their district and invite them to join in local groundbreakings, grand openings and similar events that promote local government.
"Attend your local legislators' community events and invite them to yours," she said. "Request a meet-and-greet with each newly elected legislator. Sign up for each local legislator's e-newsletters and social media and add them to yours, too. Attend your local delegation meetings as they prepare for the upcoming 2019 legislative session. Meet with each of your local legislators in their district offices."
In March 2019, FASD will hold Special Legislative Districts Day in Tallahassee for local districts to get up to date on issues affecting them. "FASD is making an even greater commitment this year," Quickel said. "Our legislative committee is gearing up for a busy legislative session."
There is also an outstanding lineup of speakers for FASD's annual conference, set for June 10-13 in Fort Myers, Quickel said.
Sachs Media Group is working with FASD to build membership. CEO Ron Sachs will give a presentation at the FASD quarterly meeting Jan. 24-25 in Lehigh Acres.
"We will see them at our upcoming Jan. 25 quarterly meeting at the Lee County Mosquito Control District," Quickel said. "We will also have an up-to-the-minute election analysis with Dr. Susan MacManus, one of our very favorite conference presenters. Florida's elections make headline news across the nation. MacManus will bring us the latest analyses and considerations for what comes next."
CPA Racquel McIntosh with Grau & Associates will provide Certified Special District training on March 11-15 at the SpringHill Suites Marriott Hotel in Tallahassee.
"Racquel works with a number of our members helping us with our audits," Quickel said. "She's an expert on special districts, and we appreciate her being a part of our ongoing education programs."
Quickel said FASD works especially hard to familiarize new legislators with the purpose of special districts.
"We frequently have to help them understand what the special districts in their area are doing, who they serve and what their role is with all the local governments together," Quickel said. "There is a big focus on outreach to coordinate that effort and understand what special districts do. You really see the importance of it when we have disasters and emergencies. They help with these localized and focused efforts, and the big governments have so much to address that the special governments can really help with those focused items."
Quickel explained that Acme and Wellington work well together to benefit the taxpayers.
"Special districts are very conscientious about that," she said. "A lot of them have very small budgets, and they work very hard to manage those budgets effectively. They focus on fiscal responsibility and accountability."
ITID President Betty Argue agreed that FASD is stepping up its role in coordinating special district issues.
"I think Tanya is doing an excellent job as president of FASD," Argue said. "One of the things I've noticed since she became president is that she is certainly doing a lot more reaching out and communicating with the members."
Argue said Quickel's efforts are especially meaningful to ITID, which plans to improve its lobbying and coordinating with other government organizations.
"We have a lot of initiatives that we need to try and get some external funds for, and I am really looking forward to our board focusing on that," Argue said. "The additional thing with FASD is the education component, which is really important to understand what it really means to be an elected official for a special district, understanding your responsibilities and what you can and cannot do."
Argue said she plans to attend most of the meetings and seminars, along with some staff and fellow board members.
"The annual conference in the summer is the really big one that usually everyone goes to from our board, as well as the district manager," she said.
Learn more about the organization at www.fasd.com.