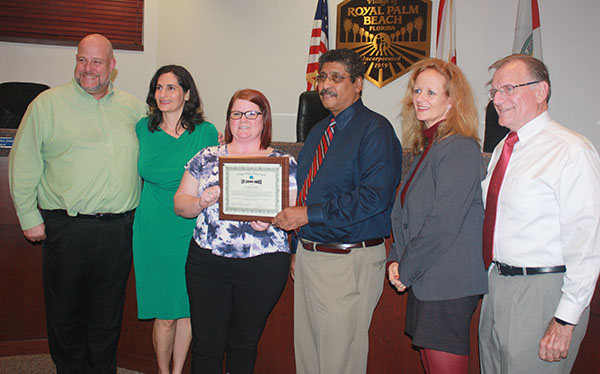 At the Thursday, Dec. 20 meeting of the Royal Palm Beach Village Council, Mayor Fred Pinto read a proclamation officially opening up election season in the Village of Royal Palm Beach.
The village will hold a municipal election on Tuesday, March 12 for the purpose of electing council members for the Group 2 and Group 4 seats for two-year terms.
Candidates must be a duly registered voter in the Village of Royal Palm Beach and have established residency in the village for at least six months prior to the time of qualifying.
Anyone wishing to step forward to run for either council seat must pick up a candidate information handbook and packet available now from the village clerk. Candidate qualifying is from 8 a.m. on Wednesday, Jan. 2 until 5 p.m. on Thursday, Jan. 10.
The two seats up for election are currently held by incumbents Councilman Richard Valuntas in Group 2 and Councilwoman Jan Rodusky in Group 4.
Valuntas and Rodusky have both picked up qualifying packets, according to the village clerk's office, and both told the Town-Crier that they plan to run for re-election to their respective seats.
Several issues may play a role in this year's campaign, including council terms and the proposed development at the Village Golf Club.
At present, council members all serve two-year terms. Some members of the council have floated the idea of longer terms, while some members of the community have suggested term limits.
Meanwhile, residents who packed the chambers last week against building homes on the Village Golf Club made clear that issue will be up for discussion in the event candidates step forward to challenge the incumbents.
In other news, the Royal Palm Beach Village Council presented employee Angie Nelson with a Lifesaving Award. Several weeks ago, basketball player Daniel Bryant, 31, collapsed at the Royal Palm Beach Recreation Center, and Nelson is credited with saving his life by using CPR.
Daniel and his father, Carl Bryant, also presented Nelson with an award from their nonprofit association. The elder Bryant thanked Nelson for her heroism.
"Angie Nelson saved my son's life," he said. "The doctors said that for all intents and purposes, Daniel was dead. Our whole family is so grateful for her."
While the village does provide CPR training for recreation center employees, Nelson has undergone advanced instruction.
In one of the council's final actions of the year, the second and final reading of the village's new landscaping code was approved. The village has hired an arborist to help it and village residents and businesses transition to the new, more robust rules on tree canopy, tree replacement and other new landscaping requirements.