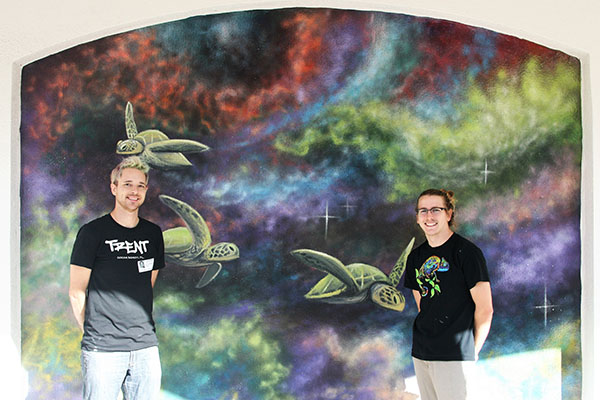 At Wellington Landings Middle School, the growing fine arts program is about more than putting a brush to canvas. All of last week, the school hosted two talented, up-and-coming artists, Kole Trent and Nick Ringelstetter, giving them the campus itself as a platform to create original works of art.
"Our school was built in 1987, and we are getting a lot of renovations through the penny sales tax referendum that was passed in 2016," WLMS Principal Blake Bennett said. "In the midst of all that beautification, we are always looking for ways to bring art to our kids. We wanted kids to be excited to come to school and like what they see."
The plan worked, and now instead of the original idea for one mural by one artist, there are now 10 different, unique art pieces on display throughout the campus.
From brick walls to garbage cans, Trent and Ringelstetter have transformed the campus and put artwork in place to reach every demographic within the school.
The first mural commissioned was a full wall depicting a natural scene of the Everglades. The piece was meant to accent the existing Positive Behavior Support Garden, but it did not take a week as anticipated.
"I knocked that out in like eight hours," Trent said. "Control is key. This is my first time doing mural work with cans ever. All the backgrounds are blurry can-work, and all the foregrounds, a lot of my pinpoint brush work."
The pieces by Trent and Ringelstetter are meant for long-term enjoyment and inspiration. All the work is made with exterior and UV weatherproof paints, and the art is sealed with a clear coat to protect it.
"High-end paint in the cans work amazingly on the surfaces you can't really hand paint; it would destroy the brush," Ringelstetter explained. "We have every single tip they make for spray cans from skinny caps to big bold lines, and then we have every spray can, so we have low pressure valve nozzles to high pressure valve nozzles."
While the artists met two years ago and have crossed paths many times at art shows, it wasn't until they ventured to Art Basel in Miami that they began a plan for collaborative work. The internationally renowned shows are a driving force in the art world across the globe.
"We have similar demographics when it comes to people who relate to our work, and I saw him at a show and instantly related to it," Trent said. "Just a couple months ago, he had a show in my hometown, our Cocoa Beach Art Show, and we've been sharing a gallery and doing a bunch of promotional work — taking on everything together at this point. He is mentoring me. He's got about 10 years on me when it comes to experience. So, I'm learning a lot from him."
The "Sea Turtles In Space" mural is their first collaboration, and right now they both have work on display at a gallery in Cocoa Beach. The space background was first layered down by Ringelstetter, then Trent came in and added the green sea turtles.
Both young artists are self-taught, self-proclaimed doodlers back in school, but the similarities in their backgrounds ends there. Trent is a Florida native, while Ringelstetter hails from Wisconsin. Trent's parents were always big supporters of his work and encouraged him to make a life of it. Even his brother, Kyle Trent, switched career paths to take over as manager for the business.
"As a self-sustained artist, I have to do all the paperwork and everything, so I only made four paintings last year, and that drives me nuts," said Ringelstetter, who is grateful to have both Trent brothers as partners now. "This whole mural at this school puts me right in the epicenter of what I absolutely wanted to do for a living."
Meanwhile, All the attention from the students made the artists feel like superstars.
"Kids ask me, 'How did you get started,' and I tell them you've gotta put yourself in the opportunities and the places where people are going to see you and get exposed," Trent said. "When you do a show, you can meet anywhere from 1,000 to 10,000 people a day. And just that in itself, one percent of that can be a collector, and that will make the whole year. Or, you have a thousand little kids come up and buy your miscellaneous stuff."
The scope of the project caught even school officials by surprise.
"We had no idea this would be so big. They are all over this campus, and the kids are so excited and engaging them and asking questions," Bennett said. "The journalism kids interviewed them for our student newsletter, the TV production kids have been interviewing them, and we have video morning announcements with all these daily segments on why they did this piece, what inspired it and how does it tie in with science."
The inspiration reaches beyond schools, as cameraman and friend Jamaal Eveillard shares. He is documenting Trent's journey through the ranks of the art community.
"I grew up with Kole in high school, and we played football together," Eveillard said. "He really inspired me because I saw how much he was into his craft and surfing. Then all of a sudden, one day he said, 'I'm gonna drop everything and pursue art.' It planted a seed in my life. Kole inspires me every day to pursue what I love."
The ultimate goal of this mural tour is 18 different projects, in reference to Trent's lucky number.
"We believe in starting with the younger generations and let them see our work and grow into it and be creative," Trent said.
As their current tour schedule evolves, the artists plan to branch out of Florida and work their way across the country.
For more information about the work of Kole Trent and his gallery, visit www.backsideart8.com. Learn more about Nick Ringelstetter at www.atomic7studio.com.