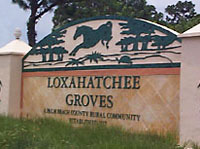 The Loxahatchee Groves Town Council last week initiated a 120-day termination process for Town Manager Bill Underwood and his company Underwood Management Services Group. The council then began a process to hire Jamie Titcomb, who is currently manager of the Town of Ocean Ridge, to replace him.
Titcomb has a long history in public service, including the longest tenure as executive director of the Palm Beach County League of Cities. He has managed several municipalities and served as a city commissioner and vice mayor in Boynton Beach. He also supported the incorporation efforts of Loxahatchee Groves through his role with the League of Cities.
The action was taken on Wednesday, Jan. 16, during the second half of a meeting that began on Tuesday, Jan. 15. During the process, the council agreed to let the new manager decide how to fill staff openings left as a result of terminating Underwood's company.
Councilwoman Anita Kane opened discussion of the termination and hiring, although she did not immediately reveal Titcomb's name.
"I think that we're all in agreement that we need to move from a contract management style to a manager hired by the town," Kane said. "I'm pretty sure that's what a majority of the people in the town and a majority of the council feel, and I'm pretty certain that our contract management at this time would like to sever the relationship."
Kane said she had met with Underwood to work out terms of separation and made a motion to exercise the 120-day termination clause in the company's contract, including relieving Underwood of his duties as town manager as soon as a replacement is available. Councilwoman Phillis Maniglia seconded the motion.
Vice Mayor Todd McLendon asked what would be done about employees, and Kane proposed two possible options.
"One possibility is to move forward with the recruitment that we've discussed, and this puts on the time clock, and when I reviewed the recruitments, they run between 60 and 120 days," she said. "The second possibility is that I have identified a town manager who is currently employed with another municipality, and if we vote yes to this, I will reveal who that person is, and then we can vote on whether to hire that person, who is ready, willing and able to come to the town."
Kane said the new manager could then make decisions about employees.
"We have a management contract for 120 days, and those people are being paid for, so they would stay, except Mr. Underwood once the new town manager replaces him," Kane said. "[The new manager] could then work with those people and make decisions on whether they would stay on as employees after the 120 days or whether they would leave with the contract."
Councilman Dave DeMarois questioned replacing the manager with an election coming up that could possibly see three new council members on the dais.
"These people are going to have to live with the headaches," DeMarois said. "The public should have the right to decide which way is this going."
Kane said that the untenable situation at the town cannot be put on hold.
"If we don't start the process, it'll never get started," Kane said. "Right now, we're at an impasse. The situation we have in our town is untenable. Things are not happening because of all the hatred and vitriol, because of all the animosity between town people, town management and town council members."
Town Attorney Michael Cirullo reminded council members that the motion would require a supermajority of four to terminate the manager.
Mayor Dave Browning said he was disappointed that the council was considering removing a management company shortly after having renewed the contract for another two years in August, with a process that outlined the company's departure.
"It tears my heart out because we have renewed a contract for a man and his company for the next two years, and then all of a sudden, we come in here and say, 'Aww gee,'" Browning said.
Browning added that many of the conflicts have arisen out of code enforcement, which has raised the ire of several residents.
"There's also a lot of people who don't have a problem with [code enforcement]," Browning said. "We're jumping on Bill with this thing. I am in agreement that we need to move forward. The system is broken."
Browning also reminded council members that its Finance Advisory & Audit Committee reported that the transition to employees would cost the town about $750,000, where the Underwood contract is less than $500,000.
"I think we really need to move forward with what Anita is saying, but I think it's wrong," he said.
Kane said she agreed with Browning's comment.
"I happen to like Bill and Perla [Underwood], as well on a personal level, but it has nothing to do with like or dislike," Kane said. "It has to do with fixing something that's broken."
Kane repeated her motion to exercise the 120-day termination clause in the management contract, which carried 5-0.
Following the vote, Kane asked council members to consider a manager candidate that she had found.
"The opportunity came available to me at a community event," Kane said. "It is somebody who I believe is uniquely qualified to manage our town. I think this person will be brilliant at this job, but I have to know that we're serious about voting on this before I reveal the person's name."
DeMarois was hesitant and felt the council should consider more than one person as manager.
Cirullo said the council had the right to consider a direct hire of a manager if it chose to.
"If it's somebody you can't vote for, you don't vote for that person or you make a motion to do something different," he said. "The request is not voting for somebody sight-unseen without knowing anything about him. I think the discussion is about hiring somebody qualified."
Kane said the person she had located is currently a full-time town manager and will be available in 60 days or less.
"Voting on this person will allow us to save the $25,000 or $30,000 consultant [fee]," Kane said. "I believe most of you all know this person already."
Kane then announced that her choice was Titcomb and made a motion to hire him as town manager, subject to legal review and final approval by the council, seconded by Maniglia.
Cirullo said he would draw up a resolution if the council wanted and pointed out that the hiring would require only three votes. Kane asked that he do so as soon as possible, and the council would hold a special meeting, if necessary, to approve it.
McLendon pointed out that Titcomb has served only two or three years in his positions as manager at previous municipalities.
"That may be the nature of being the town manager," McLendon said. "It was here for many years that it was a revolving door, and hopefully we don't start that revolving door going again."
DeMarois said that former Loxahatchee Groves Water Control District Supervisor Don Widing has management experience, but it was pointed out that Widing did not have the qualifications required by the town charter.
Browning said he liked and respected Titcomb.
"I think I like him too much to recommend him coming into this whirlwind," Browning said. "I think Todd's got a point. A lot of town managers last two or three years."
However, with the right fit, some managers last 18 to 20 years at a municipality, he said.
"We can do a search all we want. We can spend $30,000," Browning said. "I'd rather throw the $30,000 toward a tractor."
During public comment, Loxahatchee Groves Landowners' Association President Marge Herzog said that during the incorporation process for the town, Titcomb worked with the town's incorporation committee toward its goals.
"He's a dedicated man, and I think that you have made a very wise choice," Herzog said.
Kane's motion to hire Titcomb carried 4-1 with DeMarois opposed.
Cirullo said he would be able to provide a contract for Titcomb by Tuesday, Jan. 29 for council approval.