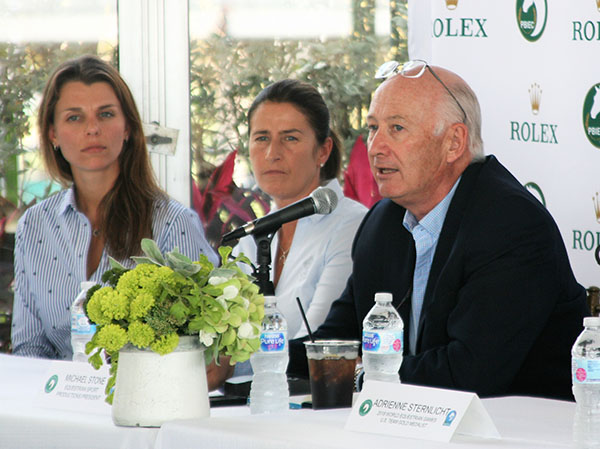 By Callie Sharkey
Before the Winter Equestrian Festival and the Adequan Global Dressage Festival opened on Wednesday, Jan. 9, a panel discussion for media representatives was held on Tuesday, Jan. 8 at the Palm Beach International Equestrian Center to discuss the 2019 season
The panel featured a number of highly decorated international equestrian riders and key representatives from Equestrian Sport Productions, the company that produces the equestrian events.
The Winter Equestrian Festival (WEF) and the Adequan Global Dressage Festival (AGDF) include a wide array of equestrian-related competitions for all skill levels, from children just starting out to the highest level of international, Olympic-caliber sports. The 2019 competitions run for 12 weeks spanning from Jan. 9 through March 31 with WEF focused on show jumping and hunter riding, and the AGDF featuring dressage and para-dressage.
The first to address the room was Equestrian Sport Productions CEO Mark Bellissimo.
"This will be the 40th year of the Winter Equestrian Festival," Bellissimo said. "I think equestrianism in Wellington is alive and well. We are very excited about the future and are hopeful that we will have fantastic weather and a great series of competitions over the next 12 weeks."
Excitement about the upcoming season is spreading, with attendance serving as a good indicator.
"Based on the pre-WEF competitions, which were all up considerably from previous years, we are looking forward to another increase in the number of attendees, which is always a great sign," Bellissimo said. "That's also true of dressage. We'll also have a record-breaking number of participants in polo's U.S. Open. We'll have 16 teams, which is a record."
Liza Boyd, a U.S. hunter rider with three Platinum Performance/USHJA International Hunter Derby championships under her belt, sees the festivals as a wonderful opportunity for young riders like her own daughter.
"There's so much for young horses and young ponies this year at WEF. There's 9 weeks of the USHJA incentive program," Boyd noted.
In addition to two international derbies, Boyd spoke of the three national derbies also taking place. "This is great for child riders or adult riders and great exposure for young horses," she said. "Then a pony derby and every week a hunter classic for small, medium and large ponies. It's so much great exposure for young riders at the top of the sport."
Panelist Adrienne Sternlicht is a top-ranked equestrian show jumper and a team gold medalist at the 2018 World Equestrian Games. Large-scale competitions like this are perfect development grounds for riders and their horses, she said, adding that she hopes to hone her skills this season and land a spot on the team for the 2019 Pan American Games this summer in Toronto.
"I'll be using this winter to build my strengths," Sternlicht said. "I have a new mare that will probably act as my top horse this winter. Her name is Just a Gamble, and she just turned 10. I haven't shown her yet, so [Jan. 9] we'll be making our debut."
Some competitors have been a part of the equestrian events in Wellington for many years and have watched the changes, like seven-time Swedish Olympian Tinne Vilhelmson-Silfvén.
"This is my ninth year here, and I would say it goes from zero to super, super competitive. [It's a] very good competition period here, and when I came here, there was almost no dressage I would say. And now, it's top quality," Vilhelmson-Silfvén said. "For me, living far away from here, it is such a great way of preparing my horses for the seasons and having them in good shape."
Wellington resident Margie Engle is an Olympian and World Equestrian Games silver medalist. She is very happy to have several five-star events happening in Wellington.
"It's fantastic to have one or two, much less this many, especially so close to home, and it brings the best riders and competition here. It's nice to be competing at that level," Engle said. "The level of competition here is as good as anywhere in the world."
On Feb. 2, the annual Great Charity Challenge is set to return to PBIEC. GCC Executive Director Anne Caroline Valtin provided an update on the program, now in its 10th year.
"The event was founded 10 years ago, and to date has distributed $12.2 million to more than 230 local nonprofits," Valtin said. "I'm very lucky to go around and visit these nonprofits and see the impact that it has in the community. It has been absolutely life-changing for 200,000 people. That's the measured impact. This year, we are on target. We said we would distribute another $1 million, and we've exceeded that already."
As the panel concluded and began to take questions, Equestrian Sport Productions President Michael Stone shared information on some changes in operations during the festival.
"One of the challenges we always have here is that we have so many competitions, so many horses, so many weeks, lots of jumping. The biggest issue we discovered was the maintenance. We were probably not maintaining it as well as we could do with all the new technology," Stone said.
To address issues this year, both the mix and maintenance of arenas are changing a bit, and the showgrounds brought in experts from Sweden and Belgium to help. Stone explained they now have a scientific way of measuring footing, so adjustments are made based on science.
AGDF Director of Sport Thomas Baur addressed some changes to scoring methods in dressage using a program called eDressage.
"It was used in Europe last summer and will be used in the upcoming World Cup qualifiers," Baur said. "It is completely paperless with immediate scores, hopefully before the rider even leaves the arena."
2019 also marks the 40th year for the Winter Equestrian Festival, and there are plans to celebrate the milestone.
"We are planning on a big event in celebration of the 40th anniversary. We'll have something pretty interesting," Bellissimo said.
Learn more about the Winter Equestrian Festival at www.pbiec.com and the Adequan Global Dressage Festival at www.globaldressagefestival.com.