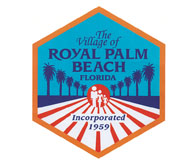 When the qualifying period for the Royal Palm Beach municipal election closed on Thursday, Jan. 10 at 5 p.m., only incumbents Richard Valuntas and Jan Rodusky had filed to run, winning new terms without opposition.
This prompted Village Clerk Diane DiSanto to cancel the election via a formal letter to Palm Beach County Supervisor of Elections Susan Bucher.
It is the first time in nearly a decade that no one has stepped forward to challenge any of the incumbents running in a Royal Palm Beach election. In fact, in recent years, village elections have been sharply contested and sometimes decided by small margins. In the recent history of Royal Palm Beach, there were no elections in 2005, 2007, 2011 and now 2019.
The upshot of the non-election is that Valuntas, the Group 2 incumbent, and Rodusky, the Group 4 incumbent, will retain their seats for another two years. Their new terms set to extend until March 2021.
Rodusky told the Town-Crier that she is honored to be able to serve the residents for the next two years.
"I will do my best to keep the tax rate as it is without an increase, work with staff to offer more public art programming and focus on maintaining the quality of life," she said. "The biggest issues in 2019 are: finding ways to minimize traffic and increase mobility, the development of the Southern Blvd. property and other potential sites, and maintaining safe and secure parks. I heard loud and clear that residents do not want the Village Golf Club land rezoned for residential. I will honor their wishes."
Rodusky and her husband Andy moved to Royal Palm Beach in 1996 to raise their children. She holds a bachelor's degree in sociology and a master's degree in public administration, both from Kent State University.
Rodusky has worked for more than 24 years in the nonprofit sector. She has extensive experience in fund development, grant writing and grant making, currently serving as chief grants officer for the Cultural Council of Palm Beach County.
Rodusky was appointed to the council in 2016 to fill a vacancy. She was elected to a complete term in March 2017.
Valuntas, who could not be reached for comment, was most recently elected to the council in March 2017, but he previously served on the council from March 2010 through March 2016.
Valuntas is a board-certified criminal appellate attorney who has practiced law in both the public and private sectors. Valuntas obtained his bachelor's and master's degrees in criminology from Florida State University, later returning to FSU to earn his law degree.
A village resident since 2002, he has been an active member of the community long before being elected to the council. He was a member of the Royal Palm Beach Recreation Advisory Board from 2002 to 2010 and volunteered as an assistant baseball coach for the Youth Baseball Association of Royal Palm Beach.