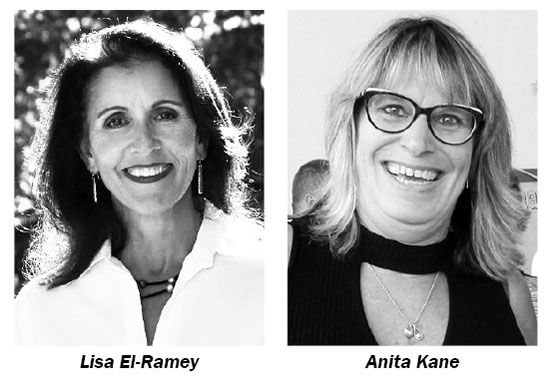 Incumbent Councilwoman Anita Kane and challenger Lisa El-Ramey are running for Seat 3 of the Loxahatchee Groves Town Council in the Tuesday, March 12 election.
Kane was appointed to the council in December 2018 to fill the seat of former Councilwoman Joyce Batcheler, who resigned in November. Kane and El-Ramey are vying to fill the remaining two years of the current Seat 3 term.
El-Ramey is a Florida native and an 18-year resident of Loxahatchee Groves. She graduated from the University of Florida with a bachelor's degree in zoology. "I have been a professional equestrian since 1994," El-Ramey said.
Her achievements as an equestrian include many national championship victories for herself and her clients. "I grew up in Broward County, the north end. It was unincorporated at the time," she said, explaining that she was encouraged to participate in all types of equestrian activities. "I've ridden jumpers, western, played polo on a casual basis. I've driven horses and taken horses to the beach. You name it, I'll do it."
El-Ramey said she came to Loxahatchee Groves to flee the tide of population growth. She feels that this is a critical moment in the existence of the town to retain its rural environment.
"I feel that we need equestrian representation on the board, not somebody who's been mostly a horse owner, but for some people, this is their actual lifestyle, this is their business," El-Ramey said. "I think we have a romantic notion of agriculture here in Loxahatchee Groves that is not big sugar, big vegetable, whatever, but… small operations, and people who are operating the facilities generally live there."
El-Ramey said the equestrian community benefits from living close to Wellington but having lower costs and taxes and fewer restrictions.
"When the billionaires run the millionaires out of [Wellington], they want to come here, and we want to make sure that, as we're deciding on how to retain the rural nature of the town and deal with the growth that is somewhat inevitable around us, and make sure that the changes that we're making protect all aspects of the town's interests, but mostly retaining the rural, agricultural nature of the town," she said. "That was my impetus for running. I don't see that being the case in the current structure."
El-Ramey explained that there are many serious equestrians coming into Loxahatchee Groves who are investing into their properties. "We're seeing a lot of newer facilities going in, people investing in stabling, fencing, arenas, irrigation," she said. "It's a huge investment, and people want to settle down and put their roots here."
However, El-Ramey said that the town must not follow the Wellington mentality of having bridle paths that are perfectly groomed and the high taxes that go along with those amenities. "I don't believe that any of the people settling here now want the Wellington lifestyle," she said.
El-Ramey said some of the Wellington equestrians have chosen to escape the restrictions that have made it too expensive to keep horses, but she thinks that road problems are a big issue for equestrians.
"I, myself, live almost at the end of my road," El-Ramey said. "My dirt road became impassible in the summer thanks to the poor handling of the water control district and the town takeover. It has only recently been resolved, and it remains to be seen if it will stay this way going forward."
She also is not in favor of speed bumps on the roads.
"I've had to come up this road with speed bumps, and in the summer, when you come up this road with speed bumps, the road is almost two miles [and] your horses are dripping with sweat because you have to go so slow, and it's not just a horse problem, it's an emergency vehicle problem," El-Ramey explained.
She wants the council and the town to be more creative in resolving road and traffic calming issues, but it always comes down to money. "It's a big issue, so we've got our work cut out for us," she said.
El-Ramey was involved with the town's incorporation effort, mostly on an equestrian consulting basis. She has studied details about the government process.
"My eyes have been open to why is this town at the age that it is now, and we have no policies for the town management and staff," El-Ramey said. "Even if it is on a contractual basis, we should have some kind of flow chart, an employee handbook, things that our expectations as a town should be met by anybody who comes in."
Kane, the former chair of the Loxahatchee Groves Water Control District, led the process for the district to become dependent to the town in June 2018.
Born in Potomac, Md., Kane attended Mary Baldwin University in Staunton, Va., where she received a bachelor's degree in political science. She received a master's degree in teaching from the Institute for Montessori Studies at Trinity College in Silver Springs, Md. She attended law school at George Mason University in Virginia but left to pursue a career in international finance.
Kane moved to Florida's western communities 20 years ago when she was recruited to be director of a private school in Palm Beach. She is now co-owner and director of #1 Education Place, a private school in Wellington.
"I moved to Loxahatchee Groves seven years ago and became immediately involved in the community for a variety of activities," she said.
Kane said she is running for the seat because, among other reasons, when she was appointed to the seat, many residents indicated that they felt whoever is appointed as a council member should be willing to run for election to assure a smooth transition.
"I'm doing it first of all to honor the people who spoke up, but secondly, I'm doing it because I have a history with Loxahatchee Groves, both as active in civic activities as well as government activities, and I've been fairly successful in trying to resolve some of the issues that have been going on since incorporation," Kane said. "I believe that I can help to get this town through some of the growing pains that it is going through right now and resolve them in a positive direction."
During the two years that Kane served on the LGWCD board, she was appointed first as treasurer, then as president. She served on the town's Finance Advisory & Audit Committee for three years, eventually serving as chair.
"I had to leave that position when I was put on the dais," Kane said. "I actually gave my finance report and became a council member the same night."
Her vision for the town is to bring diverse factions together and create unity.
"Something that I believe has been lacking is a comprehensive master plan," Kane said. "I'd like to revisit the Neighborhood Plan that people who worked so hard to incorporate the town had in mind. I realize that we're in a different place now than when that was put together, but I'd like to revisit that and use it at least as a jumping-off point for a comprehensive master plan, which is something that we… haven't been operating with, that talks about roads, all the major issues and how we're going to handle them."
Kane said projects such as road and canal maintenance that should have been attended to over the past years have not been done.
"People love to say that we're broke, but it's not that we're broke. We just don't have $20 million in the bank to do everything that needs to be done," she said. "Everything has to be done at once, and it hasn't been done for a number of years, so we really need to put together a plan. What are we going to do about infrastructure? What are we going to do about roads? How are we going to spend our money effectively? Where are we going to go to get matching funds, which we've started working on now? How are we going to get grants?"
Kane said the council and town staff have made some progress toward those ends, but she wants to continue the push.
"We have taken some steps, such as the purchase of the trails, which I worked on with [former LGWCD Administrator] Steve Yohe," she said. "That was huge in moving forward to get a grant for our trails system. We tried to get a grant before, and that was the stopper. We didn't own that land."
Also on the March 12 ballot will be two other council seats: Seat 2 with incumbent Vice Mayor Todd McLendon facing a challenge from Laura Danowski, and Seat 4 with candidates Robert Shorr and Karen Plante vying for the seat left open by the retirement of Mayor Dave Browning.