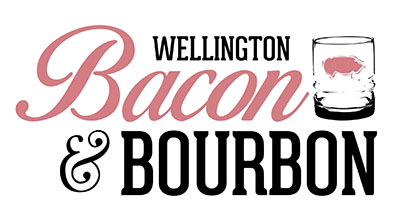 It's almost that time again for unique and interesting pairings of the world's most flavorful food: bacon, combined with the quintessential American liquor: bourbon, at the annual Bacon & Bourbon Festival. This year's edition offers free admission and will be held Friday, March 22 from 4 to10 p.m. and Saturday, March 23 from 11 a.m. to 10 p.m. at the Wellington Amphitheater.
"We've partnered with the Village of Wellington again. It's our second year that the popular event will be held in Wellington," said promoter Nancy Stewart-Franczak of Festival Management Group.
The event had previously been held in Delray Beach for three years before moving to its new home in the Wellington last year.
"We have a new pedestrian traffic flow for the attendees that is more conducive to enjoying the festival's offerings," said Stewart-Franczak, who also noted that there will be all the returning vendors, plus more, to make the event bigger and tastier than ever.
The festival challenges the culinary skills of chefs from around the county as they expand the boundaries of New American Cuisine, embellish on good, old-fashioned family-style comfort foods and embrace the farm-to-table movement. Past creations have included new and unusual menus of bacon and pork-related entrees, including Bacon and Bourbon Pulled Pork and Chocolate-Dipped Bacon.
"The food and bourbon pairings are very popular, a crowd favorite," said Stewart-Franczak, explaining that many of the seminars and tastings sell out early, as some have very limited space.
Complementing this dynamic duo of bacon and bourbon is an enviable selection of bourbon and whiskeys. Tastings and seminars share the art and patient techniques of the distillers, expanding attendees' knowledge and enjoyment of bourbon, rye and whiskey.
Live music will be provided by great local bands on the amphitheater stage, while artists and crafters will display and purvey an eclectic mix of art, funky crafts and items related to the bacon and bourbon theme. Plus, there will be plenty of backyard games to play.
The festival is committed to creating fun events for the food-loving community featuring unique food and beverages, providing rich rewards for sponsors and raising funds for the nonprofit organizations that help staff the event. "The continuing title sponsor is Buffalo Trace Kentucky Straight Bourbon Whiskey," Stewart-Franczak added.
The event takes the hassle out of parking and traffic commuting to and from the venue, offering ample parking on the west side of the Mall at Wellington Green. Free, luxury shuttle buses deliver attendees from their cars directly to the front entrance and back. "The buses run constantly, and there is hardly any wait," Stewart-Franczak said. "There is no public parking at the site of the festival."
Visit www.baconbourbonfest.com for more information about the event.