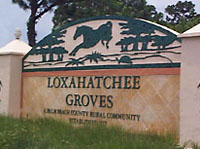 The six candidates running for three seats on the Loxahatchee Groves Town Council appeared at a forum hosted by the Loxahatchee Groves Landowners' Association on Thursday, Feb. 28.
Incumbent Vice Mayor Todd McLendon is being challenged for Seat 2 by former Loxahatchee Groves Water Control District Supervisor Laura Danowski. In a special election for Seat 3, Councilwoman Anita Kane — who was appointed to fill a vacancy temporarily until the election — is being challenged by professional equestrian Lisa El-Ramey. Seat 4 features Planning & Zoning Board Member Robert Shorr and home-school mother and teacher Karen Plante running for the seat being vacated by Mayor Dave Browning.
McLendon is a 12-year resident who became active with the town after a neighbor challenged him on his agricultural rights. He ran unsuccessfully in 2013 and was elected to his first term in 2016.
Danowski, a 14-year resident, served three years as a LGWCD supervisor. She noted that the district was providing safer roads at a much lower cost than the town has been using a private company.
Kane is a seven-year resident of the town. She has been actively involved, including as a member of the Finance Advisory & Audit Committee until she was appointed to the council, and as chair of the LGWCD Board of Supervisors until it became dependent to the town.
El-Ramey said she is running because residents have told her they are concerned about increased taxes and fees by the town, as well as selective code enforcement and inferior services to residents, including the potential loss of Palm Beach County Sheriff's Office services.
Shorr said he has been reviewing documents including the Loxahatchee Groves Neighborhood Plan and the town's comprehensive plan, which he said outline how the town should be doing things. He said the council's job is to hire a manager and attorney and see that the town is going in the right direction.
Plante, a resident for almost 16 years, has been active in the town on and off. She has been busy raising her son, who started college a year ago, and she now wants to get more involved with the town.
Asked how their skills would make them a good fit on the council, McLendon said he believes in trying to get people to reach a consensus and pointed out that the council has accomplished many things in recent years, including drainage and road projects, and is getting things done more efficiently, including the recent acquisition of a road grader.
"Very often, we'll see people at opposite ends of an issue," he said. "I try to find a common ground that we can all agree on. I've shown that. I've educated myself a tremendous amount since being on the council. There's a lot of issues out there, a lot more than most people realize, and when you make those decisions, they are very difficult."
Danowski said that prior to moving to Florida, she was a journalist by trade.
"I cite, I refer, I am committed to telling the truth. If you ask me a question, I will find you an answer," she said. "One of my strongest skill sets is negotiation and listening. The best thing that I learned at the water control district was not to be married to my own ideas. You need to put the needs of the many ahead of pride and ego. We're all here for the same reasons, whether it's horses, privacy, cows, retirement. I love this community and want to preserve it."
Kane said her qualifications for the council include a background in education, finance and the legal field, and as a successful business owner for more than 20 years.
"I think I have a unique skill set that will enable me to continue to problem-solve and create a positive outcome," she said. "I'm a people person. I get along with a wide variety of people, and I think I'm known for getting things done… Often things have been in the works for years and haven't gotten accomplished, and I managed to see them through."
El-Ramey said she has the skills, personality, experience and education to be a councilwoman.
"I am a horse trainer," she said. "I have a degree in zoology that cost a lot of money from the University of Florida. Basically, it taught me how to go look things up. So, if I don't know something, I'm very happy to say, 'I don't know, but I will go look it up.' As far as being a horse trainer, if you've spent any time around horses, they have a lot of sense. I feel that my leadership skills, being a business owner, being a self-employed person does help you find the resources to make things happen."
Shorr noted that he has sat on national, state and local boards and has volunteered all his life.
"I volunteer as a worker and gradually wind up at the top," he said. "I lead by example, and, fortunately, I am able to make the people around me better people."
He said it's important for council members to read the agenda and understand what's on it, and then figure out what is best of the majority of the people. "That's what we do, represent the majority of the people," Shorr said.
Plante pointed out that she has a degree in education.
"I really enjoy meeting people and talking to people," she said. "I really believe in our town and what we stand for. I volunteer at the South Florida Fairgrounds. I also volunteer at Guardian Ad Litem and help children there. I'm a people person, I work hard. What I don't know, I will look up. I will be accessible. I also am very truthful. I believe in transparency."
Asked about the most pressing concerns in the community, McLendon said everyone in the room probably agrees that roads should be the town's top priority.
"How do we go about fixing that? I think we're on the right path," he said. "We're bringing it in-house. With the contractor, we just didn't have the quality control that we needed. I don't know if it's going to be cheaper bringing it in-house. However, it's already better, and it will continue to get better from here."
McLendon said B Road was a disaster last year with the rain, but it has been fixed.
"There was a lot of catch basins that went in, a lot of drainage projects, there's some on Collecting Canal and E Road," he said. "We just need to keep those things moving forward."
McLendon said that the second priority is fixing the town's codes.
Danowski agreed that roads are the top priority.
"I am pretty sure that all six of us are in consensus about roads," she said. "What comes before the roads? Drainage. What comes before drainage? Educating the people why it's important to provide swale access… or have some other drainage system."
Danowski said negotiating the sheriff's contract is also important.
"If I had to pick a third topic, it would be spending of the town's money," she said. "Did you realize that in the town's budget that was approved by the council there was a line item to replace the carpet in town hall?" she asked. "Not an important item. If the council people read their packets, that would have been out."
El-Ramey agreed that roads are important, but she focused on the sheriff's contract first.
"The timeline is ticking very quickly on our relationship with the sheriff and in negotiating a contract," she said. "I feel that the situation with the exiting town management will help with that relationship, and the outcome of this election should make some of that a little easier."
El-Ramey said roads are the next top pressing concern.
"I think we need to get a master plan for the roads," she said. "I think we have to explore options for financing those roads. I think we have to think of more creative solutions in maintaining their rural nature. We need to look at traffic calming devices on our dirt roads."
Kane said her top concern is to develop a master plan that shows roads, drainage, trails and strategic financial planning to protect the town's quality of life.
"I think this involves drawing from a number of plans that already exist and making them more cohesive," she said. "The codes [and the] zoning are not really very cohesive."
Kane's second pressing concern is successfully negotiating a contract with the PBSO. "I have already been in contact with our incoming town manager and asked him to arrange a meeting with the sheriff on March 20, which will be the day after our first meeting, and we can go with our new mayor and the new town manager," she said. "That has already been taken care of."
Kane's third concern is to unify the community. "I think the distinction I've been hearing that some people are professional equestrians and some people are just horse owners… is something that just adds another degree of separation that just doesn't need to exist," she said. "We're all people who came here to enjoy our rural, agricultural lifestyle."
Shorr said his top concerns are roads, the budget and respect.
"Drain [the roads], and maintain what we have," he said. "Focus on that and put them back together. Our job as the council is to hold the town manager accountable for a plan that we all put together. He puts it together, we review it and approve it, so it's important that there is a plan, something that we can look at. You should know exactly what roads are being graded every month."
The town needs to better prioritize, he explained.
"You've got to be wise with the budget. You better spend some time reviewing it. It's a big thing to understand every line item. If it doesn't make sense, don't do it this year," Shorr said. "Also, respect the people speaking at meetings. Show them respect. It works both ways."
Plante said her number-one concern is the roads. "I think everybody deserves and has a right to safe roads, and we're not doing that right now," she said. "I think that has to be addressed before anything else, and money needs to be spent on them. They need to be fixed. They need to be maintained."
Plante said sometimes the roads she travels are impassible because the bumps are so bad. "I see people on horses, and the horses are stumbling because the roads are just terrible," she said.
Plante added that people love Loxahatchee Groves, and it should be protected. "They have their own little slice of heaven," she said. "We don't go on vacation. Our back yards are the vacation. People didn't come here to see more commercial development."