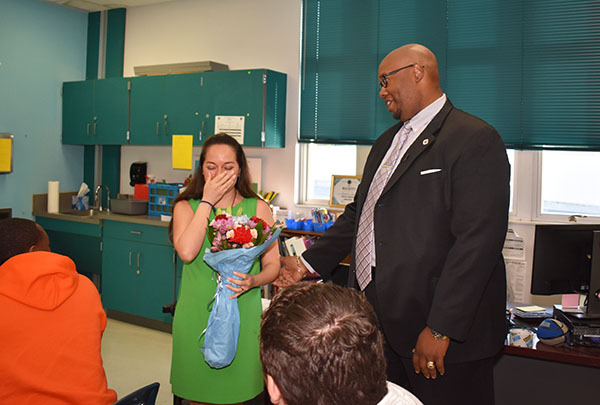 Math teachers, at least ones who quietly excel, don't usually command much media attention. So, there was no way that Royal Palm Beach High School math teacher Daniella Boyd could know that Palm Beach County School Superintendent Dr. Donald Fennoy, School Board Member Marcia Andrews, Principal Jesus Armas and a throng of media reporters were about to barge into her Calculus 101 class on Monday, March 11.
Boyd was caught completely by surprise when Fennoy arrived to honor Boyd as the Palm Beach County School District's Teacher of the Year.
Teacher of the Year is a prestigious award in a school district as large as Palm Beach County's. After all, Boyd is one of nearly 13,000 teachers currently employed by the district.
Boyd looked on in shock as the dignitaries, including her parents, husband and young son, bounded into the classroom as school district staff livestreamed the "Award Ambush" on its social media pages.
"This is by far my most crowded classroom, and now all of you have made us really crowded," Boyd smiled, clutching a bouquet of flowers handed to her by Fennoy. "As my students know, I am a proud product of the Palm Beach County public school system, which is why I love coming here every day."
Armas lauded Boyd as an exemplary teacher.
"Mrs. Boyd is a master teacher and a professional educator of the highest magnitude," he said. "Her knack for creating relationships with students, comprehensive knowledge of the subject matter, professionalism, willingness to help other faculty members, and her humble, gracious and genuine persona make her the consummate teacher. We at Royal Palm Beach High School are blessed that she has chosen to be a member of our faculty and grateful that everyone in the district now knows what we have known for years."
Andrews was also on hand to congratulate Boyd. "We are so proud that a product of our school system has risen to become Teacher of the Year," she said, then looked at Armas and continued, "Your school really seems to be on a roll here with good news after good news."
This highest of teacher honors is just one more recent accomplishment for Royal Palm Beach High School. Two months ago, Armas was named Palm Beach County's Adult Principal of the Year. The State of Florida also recently released statistics showing that the school's graduation rate had reached an all-time high.
Boyd is a nine-year veteran mathematics instructor. A Suncoast High School graduate, she went on to earn a bachelor's degree from the University of Miami, where she gained study abroad experience in Mexico, Chile, Guatemala, Panama and Costa Rica. While working on her master's degree at Harvard University, she was an academic adviser to Harvard College freshmen and an adviser to aspiring math teachers at the Harvard Graduate School of Education.
In addition to publishing two case studies for the Harvard Business School, Boyd was also recently published in Education Weekly for her article on the benefits of bilingualism. She currently teaches AICE and IB math and is the sponsor of the Mu Alpha Theta and Girls Who Code clubs. Boyd also serves as the RPBHS Marzano liaison, where she helps other faculty members be in compliance with district regulations and helps teachers better themselves by serving as a mentor.