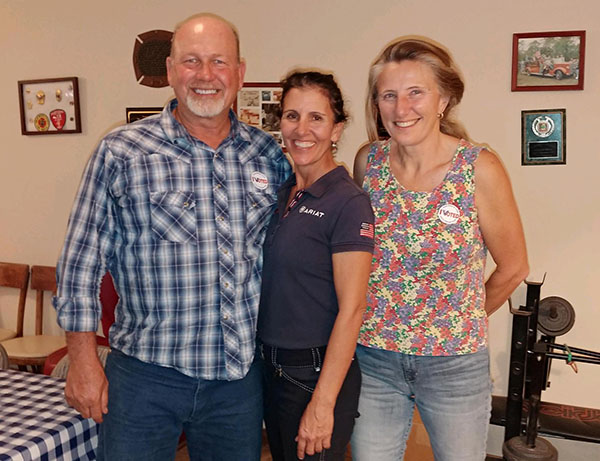 Loxahatchee Groves town council candidates Laura Danowski, Lisa El-Ramey and Robert Shorr won sweeping election victories on Tuesday, March 12, unseating two incumbents and filling the seat of retiring Mayor Dave Browning, who declined to run for a fifth term.
According to unofficial results from the Palm Beach County Supervisor of Elections Office, Danowski took 359 votes (59.54 percent) to defeat Vice Mayor Todd McLendon, who had 244 votes (40.46 percent) in the race for Seat 2. El-Ramey received 342 votes (56.72 percent) to replace Councilwoman Anita Kane, who had 261 votes (43.28 percent) in the race for Seat 3. Shorr garnered 378 votes (62.48 percent) to Karen Plante's 227 votes (37.52 percent) in the race for Seat 4.
Two referendum questions were also on the ballot, but the results were not nearly as clear. Question 1, asking voters if they wanted to remove language from the charter requiring the town to use the Palm Beach County Sheriff's Office for law enforcement services was listed as tied at 295 YES and 295 NO, as of Wednesday afternoon. A question asking voters if they wanted to extend the time period for repaying bonds from three to 11 years passed with 303 in support (50.75 percent) to 294 against (49.25 percent).
Danowski hopes the election signifies a turning point for the town.
"We need to start working together, and I know that is a phrase that has been used over and over, but the division has gotten us here, and it's just time to stop that and pull in the same direction," Danowski told the Town-Crier on Wednesday. "I think it is an historic election because of the turnout, but also because of the disparity in the voting results. Normally it's only by one or two or three percentage points, or in some cases by four or five votes. People have come out and voted and made that gap larger, so it tells me that they are ready to be part of the solution."
Danowski's goals are to spend money responsibly.
"To put our needs before the wants, and when I say our needs, I mean the residents' needs," she said. "To keep reminding people to come to meetings and to participate and be heard, because we can't do it without the residents."
Danowski's primary goal is to create a published road maintenance schedule that anybody can go and check on the town's web site.
"The next two tasks we need to tackle are negotiating with the sheriff and to begin the budget process for next year."
Danowski said her research skills will be useful to residents.
"I am objective, I am one who will research, I am not afraid to ask questions and seek multiple opinions," she said. "Some people may see this as a strength, some people may see it as a hindrance, but I can be incredibly blunt when it comes to certain topics. There is no gray on certain things. There is right and wrong, and I think what has been missing in our town is right and wrong. There has been a lot of gray application depending on who or what the topic was. The rules are made for everybody, period."
El-Ramey said the election signifies that there has been a lot of dissatisfaction within the town, given the level of turnout.
"I think the margins on the candidates show that people are ready to see something done differently, and, hopefully, that will be provided by the three of us and the two remaining council members," she told the Town-Crier on Wednesday.
Due to the close results of the referendum questions, she feels the results don't send a clear message.
"We have our work cut out there," El-Ramey said, adding that she got a call from the town attorney Wednesday morning regarding the results, but had not yet been able to return his call.
Her short-term goals are to reach out to the community.
"I've got a couple of ideas for the residents to make them feel more appreciated and more involved in the community," El-Ramey said. "The next big step is to come up with a plan for the roads. We've got a couple of residents in the town who do roads for a living who have a lot of different material ideas, and I think what I'd like to see is maybe some of these materials tested on some of the smaller roads to see whether they hold up over time before we dive into something bigger."
El-Ramey also wants to quickly resolve issues with the sheriff's contract.
She feels her skills as a professional equestrian will help her make sometimes hard decisions on the council.
"I'm the kind of person who lives under pressure with the horse business, and it's something that I've learned to work within pressure cooker situations well," El-Ramey said. "I think that my creativity, coming to the table with out-of-the-box thinking as a whole, will help us come up with solutions that maybe would not have been seen at the beginning of something, we'll be able to come up with something better going forward."
Although new to the council, El-Ramey said she has stayed informed.
"I've watched the live streaming on TV, or the computer, and I have had the opportunity to speak with a lot of the people who have been involved more than I have on issues," she said. "They have been really helpful getting me up to speed."
El-Ramey added that she was involved with the town's incorporation from an equestrian consulting standpoint. "I've been in the shadows, but not necessarily in the dark," she said.
Shorr said the election is the start of a new beginning for the town.
"We've got new management, we've got three new council members, we've got town employees now — it's a big transition period," he said.
Shorr's first goal is to work with the new town manager and try to put together a staff and contractors, stay with the town's budget and provide residents the services that they need.
"We need to get a [request for qualifications] for sanitation service," he said. "That expires at the end of the year, and we need to meet with the sheriff and negotiate a contract with the sheriff."
Shorr said a road grading plan needs to be put together to make the roads better and make sure the residents know when their roads will be graded so they can have some expectations.
"We can be graded on whether our utilities department meets those expectations that we laid out," Shorr said.
He hopes that grading can be done in a shorter time period than currently.
Shorr said his skills will help the town operate more efficiently, and his love of the town and its rural nature will keep him in tune with the residents.
"I have a lot of experience in contracts, reviewing and writing contracts," Shorr said. "I have a lot of experience working with dirt, roads and rock. I have animals on my farm, including horses. I understand the equestrian business. I have some capital budget planning experience. I used to work for Palm Beach County, so I think those traits will help me understand. I already have a basic understanding of a lot of stuff."
Shorr has served on the town's Planning & Zoning Committee and takes his jobs very seriously. "If I plan to do something, I'm going to try 100 percent to do it," he said.