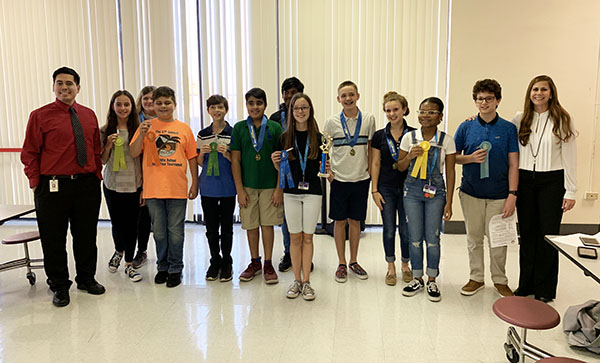 The Social Studies Academic Games teams at Wellington Landings Middle School recently completed an historic season.
After a hard-fought four weeks, the elementary team made a fantastic comeback, ending the season in second place.
The team was comprised of sixth graders Jonathan Clein, Jack Moreland, Sophia O'Keefe, Daniel Robbert and Olivia Winton. Individually, Robbert finished in second place and qualified for the national tournament. Jonathan Clein finished in 10th place and qualified for the state tournament.
The middle school team, comprised of seventh graders Jesse Brodtman, Luke Carey, Ava Grave de Peralta, Taha Khan and Tobias Smith, and eighth graders Claire Dahlstom, Ashlyn DellaVecchia, Rebeca Lopez-Anzures, Victoria Loredan, Vignesh Sundararajan and Anden Toale, finished in first place, defeating the next-closest team, the Bak Middle School of the Arts, by 180 points.
More than half of the middle school team earned individual honors. Ashlyn DellaVecchia and Tobias Smith qualified for the national tournament by placing first and fifth overall, respectively. Luke Carey, Ava Grave de Peralta, Jesse Brodtman and Victoria Loredan all qualified for the state tournament.
Several of the students were also members of the Equations and LinguiSHTIK teams. These two teams also placed first in the middle school division, completing a three-game sweep for the 2018-19 Palm Beach County Academic Games season.
Wellington Landings Middle School is proud of all of the competitors and look forward to seeing them succeed at the Florida State Tournament at Palm Springs Middle School and at the 2019 Academic Games League of America (AGLOA) National Tournament in Orlando.