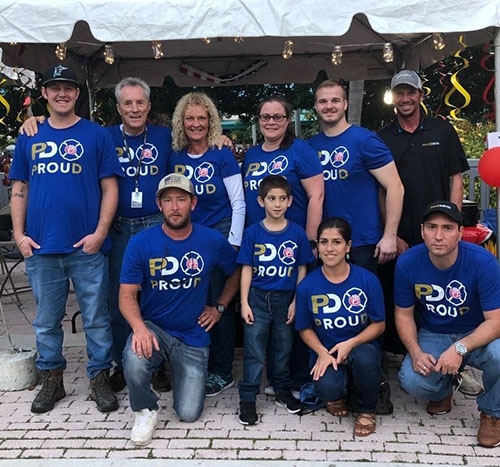 Paul Davis of Palm Beach County North and Paul Davis of the Treasure Coast employees recently participated in the Clematis by Night Firefighter Chili Cook Off to support local firefighter organizations in Palm Beach County.
On Feb. 14, restoration professionals from the local franchise offices prepared a variety of chili recipes for members of the public, who paid $10 admission to attend the fundraiser. The competition was held at Meyer Amphitheater in West Palm Beach where 14 Paul Davis team members cooked and distributed more than five gallons of chili for attendees and judges. The chili cook off attracted hundreds of local amateur and professional chefs and spectators.
The company's themed booth included giveaways and experts on hand with information about restoration, repairs, reconstruction and disaster recovery, along with tips on mitigation from water, mold, smoke, storm and fire damage, among others.
Since opening in the mid-1990s, the Paul Davis offices have helped numerous nonprofit organizations in Palm Beach and St. Lucie counties as part of the company's community service mission and philanthropy. Paul Davis is a leading provider of fire and water damage clean up and restoration services.
Office owners Shary Carothers and Mike Edwards are dedicated to organizations that support firefighters and first responders as heroes in the community.
"These men and women go beyond the call of duty to perform brave deeds for us in our community," Carothers said. "We want to thank them and show our appreciation for their hard work through supporting local activities and giving back."
For more information, call (561) 478-7272 or visit https://palm-beach-county-north.pauldavis.com.