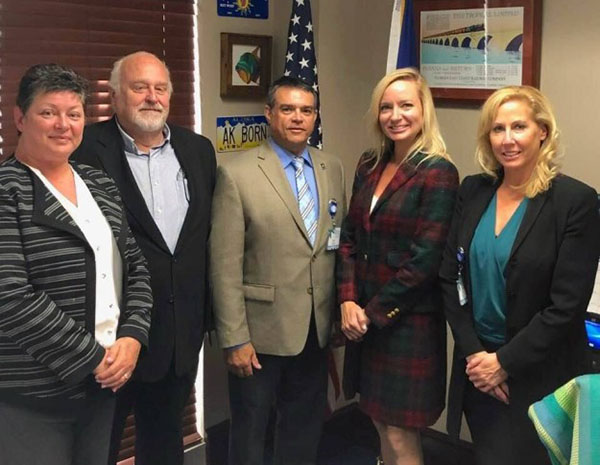 Indian Trail Improvement District officials attending Palm Beach County Days in Tallahassee last week enjoyed a successful lobbying effort encouraging legislators to approve three bills related to water control and drainage issues.
Attending Palm Beach County Days were ITID President Betty Argue, Supervisor Tim Sayre, Supervisor Joni Martin and District Manager Rob Robinson, lobbying for $5.7 million to complete the J.W. Corbett Wildlife Management Area levee, $400,000 for an outfall gate on the M-0 Canal and $400,000 to continue a pilot project to pump stormwater to the Moss property owned by the Florida Fish & Wildlife Conservation Commission (FWC).
Together, the projects would help protect The Acreage from flooding and give ITID more options to quickly remove standing water after major storms.
Argue said their efforts were more organized than last year, when some appointments were canceled.
"The Corbett levee is now $5.7 million," Argue told the Town-Crier on Tuesday. "Originally it was $8 million, and they did half of it. That was in 2015, and we haven't been able to get any more money to finish the other half, so now the other half is up to $5.7 million… Hopefully, we get the money we need to get this levee built this year."
Everyone they talked to was very receptive, she said.
"I feel like there's more support than there was last year," Argue said. "I think we got our message out there in the sense that half a levee is no levee at all, and we need to have this levee completed, and this isn't an ITID responsibility. All we're asking for is that they finish the levee. The state never got it done, so we're still trying to get the funds to get it done."
Argue said no one but ITID is lobbying for completion of the levee, but Palm Beach County supports the district in seeking funding for the project.
"It really should be Fish & Wildlife and [the] South Florida [Water Management District] making this their initiative," she said. "Hopefully, with the different people we've gotten to, they'll give us the money that we need so we can just get it done. I don't particularly like it that we have to use our time and energy lobbying on something that isn't our responsibility."
The M-0 outfall is on the M-0 Canal, which is on the northerly boundary of the district and has no gate, Argue said.
"It's the canal that separates us from Corbett," she said. "The outfall is at the L8 on our most westerly part of that canal. The outfall right now doesn't have a gate there, so we cannot control the water level [with] the outfall that's there now."
Argue explained that FWC is keeping the water level in Corbett higher than water in The Acreage.
"As a result of keeping that water level higher, the head differential in our canal can cause significant pressure on the spoil berm that exists on the portion that has not been redone, then in addition to that, it puts pressure on the canal."
Argue said the Moss pilot project was never completed, although it received support from the SFWMD. That project would enable pumping of excess stormwater in the district into the federally owned Moss property, which is starved for water because it does not have an outside source of water other than rainfall.
Because of time limits at Palm Beach County Days, district representatives focused solely on the three items.
"You have very little time to get their attention, and I heard there were 2,500 appropriation bills submitted already," Argue said. "All three of ours got put on committee agendas, and two of them have gone through already. The Corbett levee is being heard this morning in front of the Agriculture & Natural Resources Appropriations Subcommittee."
According to the web site www.myfloridahouse.gov, the Corbett bill passed the subcommittee and is now before the Appropriations Committee.
"All three of our bills will be in appropriations," Argue said. "Right now, it's looking very positive, but we're asking for a lot of money. We understand that."
Argue noted that the half of the levee that was not done is the eastern piece, which is closest to residential areas in the district. She pointed out that State Rep. Rick Roth (R-District 85) sponsored all the bills on the House side, and State Sen. Bobby Powell (D-District 30) sponsored the bills in the Senate.
State Sen. Gayle Harrell (R-District 25) and State Rep. Holly Raschein (R-District 120), who chairs the Agriculture & Natural Resources Appropriations Subcommittee, of which Roth is vice chair, are helping to pursue the Corbett levee funding. "We have lots of support," Argue said.