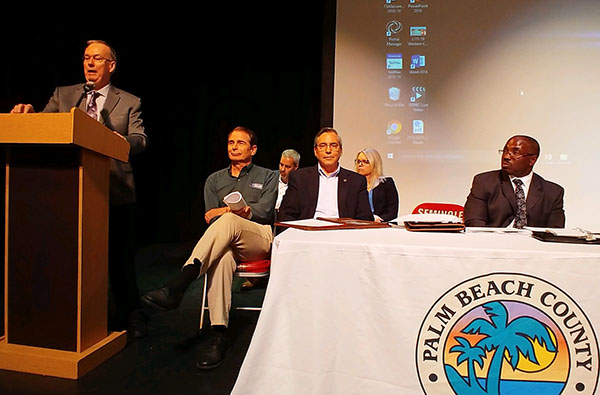 Several hundred people were in the theater at Seminole Ridge High School on Monday, March 11 for a town hall meeting organized by District 6 County Commissioner Melissa McKinlay focused on traffic improvement plans for the western communities. Attendees were also able to air complaints about road problems in the area.
McKinlay said the meeting was designed to finish a discussion that had to be called short at her Feb. 13 town hall meeting held at the Acreage library when the library had to close.
Panelists included Florida Department of Transportation District 4 Secretary Gerry O'Reilly, Palm Beach County Engineer David Ricks, Palm Beach Transportation Planning Agency Executive Director Nick Uhren, Indian Trail Improvement District Engineer Jay Foy and Westlake City Manager Ken Cassel.
"I heard from a lot of you that you would like to have a meeting just on this particular issue of traffic. What I've tried to do tonight is assemble the different partners that we work with on traffic-related issues in Palm Beach County," McKinlay said, pointing out that numerous other agencies were not represented that evening, even though they play critical roles in the traffic planning process, such as the South Florida Water Management District.
Panelists gave presentations on their respective responsibilities in the transportation planning process.
O'Reilly said that FDOT is primarily concerned with safety projects, but also gives attention to intermodal transport, which include the State Road 80/Southern Blvd. road widening project currently underway from four to six lanes beginning at Forest Hill/Crestwood boulevards to the new Arden community near 20-Mile Bend.
"Roads like State Road 80 carry large amounts of traffic and carry them across regions, so they're not just local to an area," he said. "State Road 80, which is under construction right now, is an example of that, where we got state funding to widen that road and improve it."
O'Reilly said he has worked for many years on the State Road 7 extension, which is tied up in permitting challenges from the City of West Palm Beach.
"Technically, in the FDOT, it's 'under construction,' but obviously, if you go out there, it's not under construction at all, and the technicality is that we did hire a contractor to do the job," O'Reilly explained. "However, now we're in a position where there has been a challenge to the environmental permit, and this has been an ongoing challenge to our permit for the past several years."
O'Reilly said the environmental appeal is set to be heard in August.
"We're defending the decisions that have been made over the past 10 years, and we've done that successfully each time, and I guess we're going to have to do it again," he said, adding that FDOT still has the contractor on retainer. "I'd love to tell you it happens quickly. When I talk to the attorneys, they tell me its quick, but it's not quick in any time frames I typically deal with."
Uhren said the SR 7 project, when the challenges are cleared, will extend the road from 60th Street North to Northlake Blvd., and widen the road from two to four lanes from 60th Street North to Okeechobee Blvd.
Other projects funded by the TPA include the installation of traffic calming devices in The Acreage, including Hall Blvd., 140th Avenue North and Temple Blvd., all just south of Northlake Blvd.
"The state is constructing those speed tables for the Indian Trail Improvement District with the funding given to them by the TPA," he said. "Those corridors should be under construction by 2021."
Uhren added that a proposed intersection improvement project for Northlake Blvd. and the Beeline Highway was presented at a public hearing in February with favorable results after proposals for an overpass were rejected.
"We think that FDOT has come up with a plan now that will be buildable, that the railroad will allow us to construct, so that we can relieve some of the congestion at that intersection while also avoiding some of the adverse effects that the overpass would have had if Northlake Blvd. had gone over the Beeline Highway and the railroad at that location," Uhren said.
Ricks said county roads 60th Street North, 190th Avenue North, Coconut Blvd. and Orange Grove Blvd. have been included in the five-year plan as potential network roadways.
"One of the things we have challenges with is Roebuck Road, because we have some challenges with the nearby communities," he said. "Jog Road from Roebuck to 45th Street has also been put on hold because of some challenges from the local community."
Ricks said funding for road construction comes from gas tax revenue, which is shared with Palm Tran and other services, impact fees and a proportional share paid by developers, which is falling short of anticipated roadway needs.
"That [proportional] share does not pay for the full cost of the road, only a fraction of that cost, so they may only pay 20 or 30 percent of the true cost of that roadway," he explained. "The other cost has got to come from other funding sources, like the gas tax, and may take several years before we fully fund the road improvements."
Ricks noted that funding for western communities roadway improvements in 2019 is more than $24 million. "Hopefully, we will be at work this fall or next springtime," he said.
Projects include 60th Street North around the City of Westlake, Seminole Pratt Whitney Road around the intersection of Northlake Blvd., and expanding Northlake Blvd. from two to four lanes for approximately four miles from Seminole Pratt Whitney Road to Avenir.
"There is a lot of work going on," Ricks said. "It doesn't address your needs today, but we are trying to address that as we are going forward."
While there have been calls for more lights, Ricks said traffic signals are established according to a national standard that warrants a light.
"If you don't do that, then potentially there's some liability that occurs if you don't use the right criteria as far as warranting a signal," Ricks said.
Many residents of the Bay Hill Estates neighborhood were at the meeting asking for a light at Bay Hill Drive and Northlake Blvd. Ricks explained that the light was not warranted under the national standards.
"These are things that professional engineers will look at in terms of establishing criteria for a signal," Ricks said. "They look at traffic volumes, the existing speed limits, crash history and the age of drivers. There's a lot of concern as far as the accident data related to that area of Northlake, so we pulled some data from the sheriff's office and also the City of Palm Beach Gardens."
After doing an analysis two weeks ago, he said the criteria did not meet the threshold for a traffic signal at Bay Hill and Northlake.
"That doesn't mean it won't meet it in the future, but that's where we're at today," he said.
Ricks added that the City of Palm Beach Gardens has traffic jurisdiction over that portion of Northlake Blvd., but it must meet the same standards as the county.
Cassel said the City of Westlake will construct the roads within his community's limits in accordance with Westlake's comprehensive master plan and the development order that was approved by the county.
"To date, Seminole Pratt Whitney from the school to 60th has been completed at a cost of close to $20 million for the developer," he said. "We're in the process of working with the county and the developer turning over 60th Street North from 140th Avenue North to Seminole Pratt on their road plan in accordance with the development order. The rest of the roads within the city limits will be constructed as indicated in the comp plan."
Foy explained that ITID is a special assessment district that does not receive gas tax revenue or impact fees.
"We have one source — non-ad valorem taxes," he said. "We cannot fund a road unless the people in our active units approve it. We do not control traffic. That is not our jurisdiction."
Foy said ITID's road focus in recent years has been its R2 program to bring pavement to within a half-mile of every home in the district. It is now working on an R3 program to improve roads in the proximity of schools, parks, fire stations and public facilities.
McKinlay said she hoped the presentations gave those attending an idea of the challenges the county faces in prioritizing road projects.
"Palm Beach County is one of 67 counties that the Florida Department of Transportation hears from in terms of road projects," she said. "I am one of 21 voices on the Transportation Planning Agency. I am one of seven county commissioners, who also have priorities in their districts, and I work as best as I can with the Indian Trail Improvement District, Loxahatchee Groves, Westlake, Royal Palm Beach, Palm Beach Gardens, West Palm Beach, Wellington, Belle Glade and everything in between."