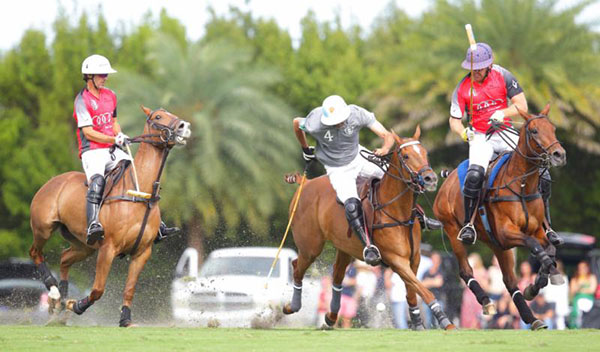 In front of a record crowd, SD Farms won its first 26-goal tournament in team history in the World Polo League's Palm Beach Open final on Sunday, March 24 at the Grand Champions Polo Club in Wellington.
SD Farms (Sayyu Dantata, Santi Torres, Guillermo Terrera and Adolfo Cambiaso) jumped out to a 7-1 lead after two chukkers against Audi (Marc Ganzi, Nic Roldan, Pablo MacDonough and Kris Kampsen) and went on to win 11-6.
It was the first 26-goal tournament title for Nigerian Sayyu Dantata in his World Polo League debut. Dantata, playing above his 2-goal rating, scored two goals and defended 10-goaler Pablo MacDonough well. He earned the Catena Fair Play Award.
"This is the thrill of my life, and playing with the best player in the world is a bonus," Dantata said. "This feels amazing. I am very, very happy and very excited. My family came here to watch, and I am sure the guys back home in Nigeria are excited, too."
SD Farms finished the tournament undefeated at 5-0 and earned $75,000 in prize money. Audi's foursome, winless in the Founders Cup, finished 4-1 after a remarkable turnaround.
"This is a dream team," Dantata said. "I don't think any 26-goal team anywhere in the world can beat us, and that is a challenge to anyone who wants to put a 26-goal team together to play us."
Argentine 10-goaler Cambiaso was named Most Valuable Player after scoring a game-high five goals, all on penalty conversions.
"We played well," Cambiaso said. "Sayyu had a great game and did well against Pablo. I think it is the best game we played as a team. We all did a good job. This is a very good team."
Dantata, a veteran of 30 years in polo, praised Cambiaso's coaching on the field. "When you have the king telling you what to do, it doesn't matter what handicap player I have to play," Dantata said. "I have known Pablo for a long time. I went with Adolfo's instructions and followed through."
Terrera was SD Farms' second-leading scorer with four goals, including an incredible 90-yard neck shot through the air in the third chukker.
"I am very happy," Terrera said. "The first three chukkers we had really good rhythm. We had a six-goal difference, and we kept it up. Maybe in the last two chukkers we made a couple of fouls that allowed them to get close in the score, but they didn't have enough time."
Co-founded by Grand Champions owners Melissa and Marc Ganzi and Valiente Polo Farm owner Bob Jornayvaz, the World Polo League is the only 26-goal polo in the world outside of Argentina. For more info., visit www.worldpolo.org.