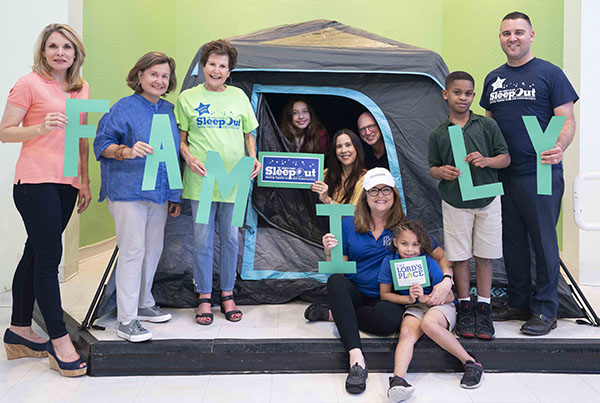 However you define family, bring yours to the Lord's Place SleepOut 2019 on Friday, April 5 beginning at 5 p.m. at the United Methodist Church of the Palm Beaches (900 Brandywine Road, West Palm Beach).
SleepOut brings together hundreds of people across the county from all walks of life to spend an evening celebrating the success of those who have been helped by life-changing programs from the Lord's Place. The inspirational evening ends with hundreds sleeping outside overnight to bring attention to the issue of homelessness and to raise funds for the Lord's Place. Others choose to SleepIn at their homes or backyards.
The 2019 honorary family for SleepOut is Jon and Bibi Van Arnam and their daughter Alexandra. They were selected due to their long-standing efforts to help the homeless in Palm Beach County. Jon began participating in SleepOut soon after its inception. In his previous position as Palm Beach County assistant and later deputy county administrator, he wanted to learn more about how the services provided through the county and its sister agencies helped those who are homeless.
"I find SleepOut, where you hear the stories of those whose lives have been changed and sleep out overnight together, is a way to reawaken your commitment and reconnect with the cause," he said.
Bibi and Alexandra have participated in SleepOut since Alexandra was seven. She is now a 15-year-old student at the Dreyfoos School of the Arts.
"To be asked to represent something we feel so strongly about is a true honor for our family," Bibi said. "Taking care of each other as a family is important, but it is also important to take care of everyone in our community. We are all part of this community, and we have to do all we can to make it better."
The family-friendly event, now in its 12th year, begins at 5 p.m. at the United Methodist Church of the Palm Beaches. Registration is $25, with children under 16 free. Participants are encouraged to register beforehand to start or join a team at www.sleepouttlp.org and request contributions for their participation from family, friends, neighbors and co-workers.
SleepOut features fun for the whole family, including a special children's area, delicious food by Joshua Catering, a social enterprise of the Lord's Place, and a silent auction. Everyone comes together for an inspiring program of song and word. After the program families will enjoy board games and music, with many opting to spend the night, sleeping outside overnight, with a closing reflection at 7 a.m. the next morning. Others who can't join SleepOut onsite can opt to SleepIn by registering to SleepIn at www.SleepOutTLP.org.
There is plenty of free parking at the event site, just west of I-95 off of Palm Beach Lakes Blvd. Volunteers will help participants pitch their tent or find their "sleeping under the stars" spot. The event will continue rain or shine, with the program staged inside in the church's Gathering Place.
For more information about the Lord's Place, visit www.thelordsplace.org.