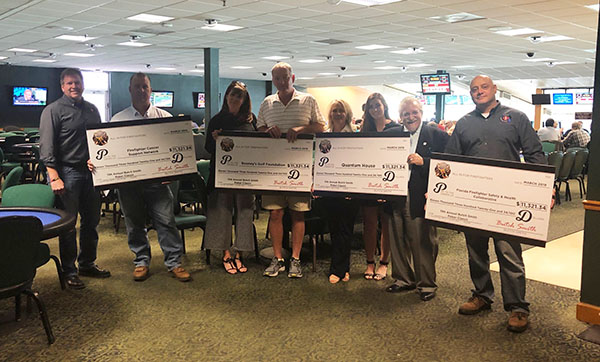 The 11th Annual Butch Smith Poker Classic was the second highest grossing event since the charity tournament began in 2008.
A total of $45,285 was raised through the event hosted by the Palm Beach Kennel Club.
Four checks, each in the amount of $11,321.34, were distributed to the Firefighter Cancer Support Network's Florida Chapter, the Florida Firefighters Safety and Health Collaborative, Quantum House and Rooney's Golf Foundation.
"What started 10 years ago as an event to benefit Capt. Butch Smith, a firefighter in his battle with cancer, has evolved into a fundraiser that has raised more than $399,285 for our nonprofit recipients. While Butch passed away Jan. 1, 2017, we will continue to be committed to this incredible mission," Tournament Director Sam Eaton said.
The tournament, which took place at the Palm Beach Kennel Club, distributed more than $28,000 in cash and prizes, including 20 seats to No Limit Pub Poker Tour's No Limit Open.
A total of 387 played in the event. In addition, there were raffles, a silent auction and a moving opening ceremony.
The event's major sponsors included: the Poker Room at Palm Beach Kennel Club, No Limit Pub Poker Tour, IdentiFire Safety, Hall of Fame Players, Citadel of Florida and Medical Career Academy.