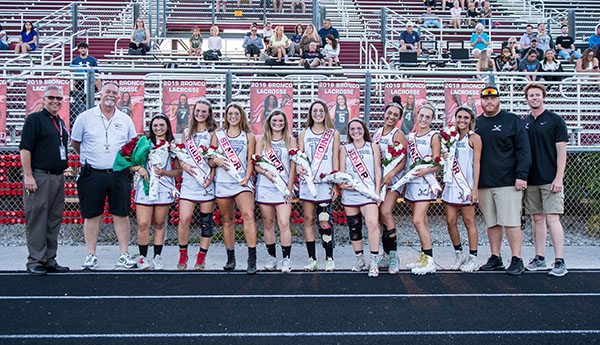 The Palm Beach Central High School girls lacrosse team hosted rival Seminole Ridge High School on Wednesday, April 10 and dominated the Hawks 16-2. The victory added to the celebration of the Broncos' senior night.
Palm Beach Central (6-9) opened up the contest in control of the tempo. Abbey Woodcock broke the ice, scoring the game's first goal for the Broncos to take an early 1-0 lead. Seminole Ridge won the ensuing faceoff but could not maintain possession after a good press toward the Bronco goal.
The Broncos would drive in six goals in the first half before Seminole Ridge (4-8) would score their first. Palm Beach Central midfielder Sophia Scichilone would account for two alone. With less than nine minutes remaining, Seminole Ridge' Hailey Bass split the Bronco defense in the center and struck the back of the net to close the margin to 6-1.
The Hawks continued to press the action but faced a feisty Bronco defense that continued to force turnovers. The Broncos would stack five more goals on the board to secure an 11-1 lead at halftime. The Hawks could not contain Woodcock, who recorded four goals on the night.
The second half proved equally challenging for the struggling Hawk defense. The Bronco offense continued to score, logging five more goals before the final whistle. Seminole Ridge would find the net just one more time in the closing minute, but it was the Broncos on top to cap their senior night with the 16-2 win.
Eight different players scored for the Broncos: Woodcock with four goals and one assist; Scichlione, Makena Wimer, Mackenzie Sheedy, Addison Fiorillo and Meghan Martinez each recorded two goals; and Ginger Stein and Karina Frangella each had a goal. Frangella and Sheedy combined for 12 ground balls. With the win, the Broncos improved their overall season record to 7-9.