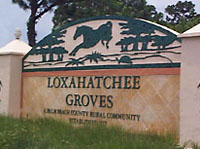 The Loxahatchee Groves Town Council chose Robert Shorr as the town's new mayor last week after several rounds of nominations, plenty of arguing and voting that resulted in stalemates.
Shorr is the first mayor that the town has had since former Mayor Dave Browning stepped down after serving 12 years as mayor — the community's only mayor since incorporation.
At the April 2 meeting, Town Attorney Michael Cirullo suggested that the council use the same process they used when they selected Councilman Dave DeMarois as mayor pro temp at its prior meeting.
"You can have nominations, there's no need to have a second," Cirullo said. "You can nominate yourself. You will vote in the order of the nominations, and once someone gets three votes, there will be no further voting."
He pointed out that once the mayor is chosen, the council will need to pass a resolution naming that person as mayor for one year.
Councilwoman Phillis Maniglia nominated Councilwoman Lisa El-Ramey for the largely ceremonial role.
"We've had the men, the boys, running this town for a long time, girls," Maniglia said.
Shorr nominated himself.
"I think we need somebody who can run the meeting, which I have over 20 years board experience doing that, as well as somebody who works in the community and has helped the community for the last year and a half," Shorr said. "I've been heavily involved in trying to help this community get back together, and I think that's just as important as sitting up here at the dais."
DeMarois also nominated himself, calling for a vote on El-Ramey, which failed 3-2.
Shorr's nomination also failed 3-2. DeMarois received his own vote, failing 4-1.
Nominations were reopened, and Cirullo suggested that council members discuss the nomination among themselves.
"I think Lisa can run a meeting, and no offense, Robert, you've [been involved] here a year and a half. You've been a great help, and you're sitting up here, that's proof enough," Maniglia said. "We need someone who can run a meeting. I think Lisa can do that."
Maniglia added that she was not sure whether to nominate El-Ramey or Councilwoman Laura Danowski, but Danowski said she would have declined.
"This is a new age for our town," Maniglia said. "Mr. DeMarois, with all due respect, you sat on the board at the water control district for many years… I would love to see a woman as mayor."
Danowski said she preferred someone with experience, such as Shorr.
"Just because you haven't sat in the mayor chair, your résumé and credentials are of leadership positions on various boards and with the South Florida Fair, and no discredit to you, Lisa. I'm going with experience, and don't forget, we need to do this again next March, so we could possibly pick another mayor."
Shorr objected to the selection being framed as a gender issue.
"This can't be a man-woman thing," he said. "You've got to look at experience with the people of the town, and you've got to look at somebody who's going to be best for the town."
"OK then, I'm nominating myself, which I didn't want to do," Maniglia said. "I've lived here 30 years. I've been fighting this fight for the past 12. I'm going to take that back. I don't want to nominate myself."
DeMarois re-nominated himself, creating the same three nominees as the first round, and all three again failed to get three votes.
Danowski suggested that in other towns, the mayor is selected by who gets the most votes, and she pointed out that Shorr had won the most votes in the recent election.
"I unseated Mr. [Todd] McLendon by maybe 103 votes, so if it came down to a choice between Robert and myself, the majority won," she said, adding that DeMarois had won his election by less than 20 votes, and Maniglia had won her election by 4 votes.
DeMarois stressed that he had sat on the council for two years and had the most overall experience.
"These are hard times, and we need some experience in this position," he said. "I think I have it."
Shorr said he felt betrayed by Maniglia that she was not supporting him for mayor.
"This is interesting that Phillis supported me running in the beginning and said I would make a great mayor," he said.
"I didn't say you would make a great mayor, I said you would make a good council member," Maniglia said.
Shorr said that Maniglia had supported two incumbents who lost in the recent election.
"During the election, you supported the incumbents, but here you are voting based on woman versus man," Shorr said.
Shorr said he felt DeMarois can run a great meeting, but there are broader aspects to the post.
"I just think the other part of the mayor is being involved in the League of Cities, being accessible to the community, going out and being involved in the community events, and showing up and helping bring the community together."
Danowski asked if the council could continue running that evening's meeting with the vice mayor and have a workshop among the five council members, but Cirullo said the charter stipulates that the council select the mayor after the fourth Tuesday of March.
During public comment, Roadways, Equestrian, Trails & Greenway Advisory Committee Member Nina Corning pointed out that the mayor is at a disadvantage because he or she does not get to make motions.
"I want you to be fully clear about that, unless you pass the gavel, and then you have to get the gavel back," Corning said. "That's a huge disadvantage as a mayor, or as the chair, for that matter, of a committee. Second of all, going to meetings and representing the town is something that you all can do."
Corning pointed out that the council once selected members to attend relevant meetings and had liaisons to the town's advisory committees.
"There is a way that all of you can have a job, but I want you to seriously consider the fact that you cannot make motions as mayor."
Corning added that, traditionally, the mayor is the last person to speak on issues.
Former Loxahatchee Water Control District Supervisor John Ryan said he had supported all three newly elected candidates but supported DeMarois to serve as mayor because he has the best historical knowledge of the community.
Planning & Zoning Committee Chair Dennis Lipp felt that DeMarois should drop out since he had nominated himself and got only one vote.
"If two people get more votes than the guy that got one vote, he doesn't run again," Lipp said. "It just seems fair to me."
DeMarois conceded and said that he would vote for Shorr.
Shorr re-nominated himself, and Maniglia re-nominated El-Ramey. In the order of nominations, the vote was called for Shorr, and he won 3-2.