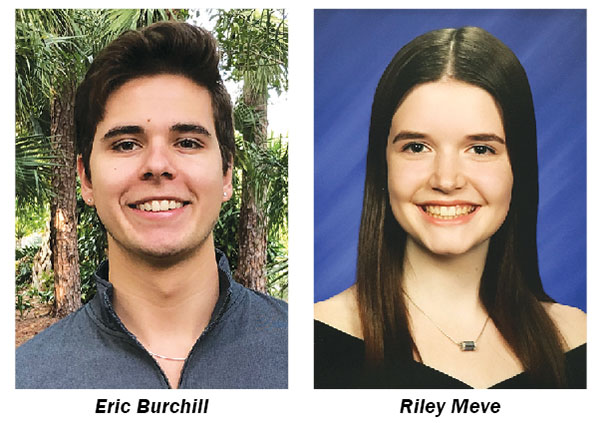 The 2019 graduating class at Wellington High School will walk across the stage at the South Florida Fairgrounds Expo Center on Wednesday, May 22 at 9 a.m. At the ceremony, Valedictorian Eric Burchill and Salutatorian Riley Meve will lead the way.
Burchill had a plan to become valedictorian when he was a freshman. He confessed that he had his eyes on the prize since day one.
"It is my nature to be competitive and shoot to be the best," Burchill said. "I remember my freshman year, with a piece of paper and a calculator, calculating what it would take. I stuck to this plan, and it worked."
This required both difficult courses and top grades.
"I had to maintain a 4.0 GPA while taking the most rigorous courses," he explained. "I am a science person. So, I took the most advanced-level science classes that I could. I took Advanced Placement biology and physics, but I also had to explore other types of courses. So, I took a French class at the community college."
When talking about his ambition, Burchill explained how his drive to succeed has never stopped him.
"Nothing has ever been handed to me. I learned early on in my life that if I want something, and I work for it, I can get it. I always say, 'Why not me.' If the valedictorian is going to be somebody, why shouldn't it be me? It can be me," he articulated with courage.
Burchill also involved himself in extracurricular activities in order to balance out his academics. "I am the captain of the academic team at my high school," he noted. "We compete in academic tournaments. I am also on the Dance Marathon committee."
Dance Marathon is a charity organization where students raise money to help sick children. The Class of 2019 at WHS raised more than $100,000 for the organization.
Burchill will attend Middlebury College in Vermont this fall because the school gives him more opportunities to explore his academic pathway, and he loves to kayak, bird watch and wants to begin to explore rock climbing. He also likes that the school has an open curriculum.
"I want to work on a double major and be on a pre-professional track. This will be a lot of classes to take," he said. "At Middlebury, I can achieve it there. It is an extremely small school, so I feel I will be getting a lot of focus from my professors. I will be able to get to know people better. I also wanted to go to college in Vermont because I am extremely outdoorsy. Middlebury College is about as outdoorsy as you can get."
Riley Meve, the salutatorian, also wanted the honor to be at the top of her graduating class of 633 at Wellington High School. The role seems to run in the family. Her sister, Sydney Meve, was the salutatorian for the Class of 2017.
"This is something I have wanted for a while," she said. "I started thinking about it in my freshman year. I have an older sister, who two years ago was also the salutatorian at Wellington High School. I work hard for what I want. I am a goal setter and a planner. I come from a high-achieving family that cares about academics. Also, one of my main goals was to go to an out-of-state, small private school."
Meve will major in history at Rice University, a private research university in Houston, Texas.
"A lot of work went into getting into a school of this caliber," she explained. "It was the byproduct of me becoming salutatorian. I always took the highest-level classes. I really like humanities and social sciences classes, but I have branched out to science as well."
She is looking forward to continuing her education. "I am going to major in history at Rice, which is kind of funny, since Rice is more of a STEM-based school. But I really fell in love with it because, one of their biggest things is research. They don't just do research in the [sciences]. They really do a lot of research in humanities as well. I am not only looking to gain new knowledge of history, but build upon it with more skills in research," Meve said.
She is also hoping to take on internships and learn about political science at Rice. "Even though I am majoring in history, I am hoping to have a career in public policy. They have one of the best public policy institutions," Meve said. "With Rice being in Houston, the fourth-largest city, there are a lot of political connections there. I want to work in government. I am looking at non-elected positions. I don't really want to go into campaigning but focus on issues in government that I care about. One thing that I am interested in is environmental policy, and I want to continue developing a strong relationship with government and environmental protection."
Meve believes that Wellington High School offered her a strong academic foundation.
"I have had many amazing teachers who really care about what they are teaching," she said. "I think that translates into a better education."
When it comes to her social life, Meve has not given anything up. "I have not let being salutatorian sacrifice my social life," she said. "I am involved in a lot of honor societies, where I am the president of a few. But I still save time for myself."
When it comes to advice for those who want to be high ranking in their class, she thinks that they should know what they want from the beginning.
"Care equally about every class you are taking, not just because you want a high ranking in that class," Meve said. "Take the classes because you care about learning."