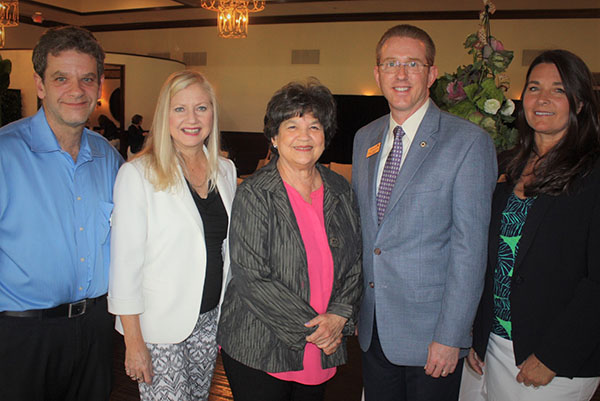 The Wellington Chamber of Commerce hosted U.S. Rep. Lois Frankel (D-District 21) at a luncheon Wednesday, May 29 at the International Polo Club Palm Beach. The congresswoman spoke about her work in Washington, D.C. The luncheon was sponsored by Flagler Bank and Whit's Frozen Custard, which offered the audience a custard treat from its newly opened Wellington location.
Flagler Bank Vice President Daryl Lyon introduced Frankel.
"From the student antiwar protests of the 1960s to her election to Congress in 2012, where she represents South Florida, Congresswoman Lois Frankel has spent her lifetime delivering positive change to her community as a civic leader, state legislator, mayor and now member of the United States House of Representatives," Lyon said. "A trailblazer in the Florida Legislature, Lois served as the first woman Democratic minority leader. She became a leading force to improve the economic condition of families and seniors, and protect human rights and women's reproductive freedom."
Frankel strolled through the audience getting close to the different tables as she spoke, making eye contact with as many of the attendees as possible. She recalled her many recent visits to Wellington, since her district was redrawn to include the community several years ago. It was a reunion of sorts, since she represented the area in Tallahassee back in the 1990s.
"I love Wellington. It's a great place to raise families," Frankel said, noting a recent visit to one area school. "We donated books from the Library of Congress to the fifth-grade students at Binks Forest Elementary School. These kids were very, very sharp. They knew government really well. One kid asked if I had met Donald Trump. And I said, 'Well, yes, I have.' Have you met Barack Obama? I said, 'Yes, I have.' Did you ever meet Bill Clinton? I said, 'Yes, I have.' Have you met Abraham Lincoln?"
The audience laughed. "Did I look that old to him?" Frankel quipped.
Frankel continued to talk about what her and her colleagues are working on.
"I want to tell you about three things my colleagues and I are working on in a bipartisanship way," she said. "I am on the Appropriations Committee this year. My focus has been on how to properly fund government. That is what our committee does. But let me tell you what most of us are looking at now. First is cleaning up government. Second is lowering the costs of healthcare. And third is raising people's wages."
She noted a few things in each of those areas.
"In terms of cleaning up the government, we recently, in the House, passed legislation that will make campaign contributions much more transparent and give more power to the people who give the small contributions," she said. "It takes the redistricting process and makes it more fair and has automatic voting registration. People should have access to voting."
Healthcare remains a central issue across the nation.
"Anywhere in the country, if we ask someone what is important to them, they will say the cost of healthcare. Some of the most needed medicine is doubling and tripling in cost in recent years. We need access to healthcare where the premiums are reasonable. This is really tough, especially if you have a young family. We have to get the cost of healthcare down," Frankel said. "We are looking at legislation to try to get generics quicker to the market and to make sure that if drug prices rise, we can find out transparently what is causing this price to rise."
Stagnant wage growth is also an issue in every corner of the nation.
"The third overwhelming issue in this country is raising people's wages. Why should anybody in this country who wants to work hard have to work two jobs? It is just not right," she said.
Frankel took questions from the chamber audience.
"You came from local government," James Hanford noted. "You said that you were able to solve problems. Now you are at the federal level. How do you deal with that? How do you cope with the frustration that you are going to pass legislation, and it's going to go to the Senate and die?"
Frankel agreed that working in Washington can be frustrating.
"I try to make an analogy. Which is if you played football, how do you deal with blows every day? Or, I bet if I asked you about your profession, does anyone have the perfect profession? You have lots of frustrations that you are dealing with," she said. "It's not any different than the job I am doing. I have a fantastic job. I am not complaining, because in between all of this fighting, you can tell when we do something good, I feel good. I deal with frustrations just like you people deal with frustrations in your job."
Another attendee asked how she should reach out to her representatives and if it really makes a difference if she makes the phone calls and writes letters.
"Isn't that sad that you have to ask that question. I think it should make a difference. Silence does not get you anywhere," Frankel said. "So, you should have high expectations of your representatives and your council people here. Get your suggestions in to the council. We are supposed to be responsive to you. We cannot talk to everyone in the community individually. So, it is very important that you reach out, even if it is only on social media."