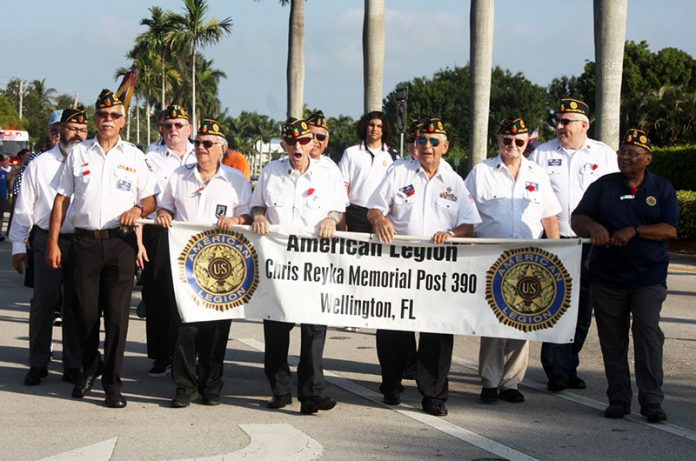 Wellington celebrated its Memorial Day remembrance honoring those who lost their lives in service to the nation with a small parade from the Wellington Municipal Complex to the Wellington Veterans Memorial on Monday, May 27.
The Palm Beach County Sheriff's Office Honor Guard, the Palm Beach County Fire-Rescue Honor Guard, the Palm Beach County Fire-Rescue Pipes and Drums, members of American Legion Chris Reyka Memorial Post 390, village officials and honorees made a procession up Forest Hill Blvd.
During the following ceremony, Vice Mayor Michael Napoleone welcomed the crowd and Shelly Albright of St. Peter's United Methodist Church offered the invocation. After the presentation of the colors, Councilwoman Tanya Siskind led the Pledge of Allegiance and 2019 Wellington Idol winner Jessica Russo sang the national anthem.
Honored guests Post 390 Commander Jim Napuli and Sean McGovern of Southeast Florida Honor Flight came to the podium to honor those lost in battle and also recognize the veterans in the audience. The ceremony continued with the laying of wreaths in honor of the service branches and a gun salute by the Palm Beach County Sheriff's Office Rifle Team.