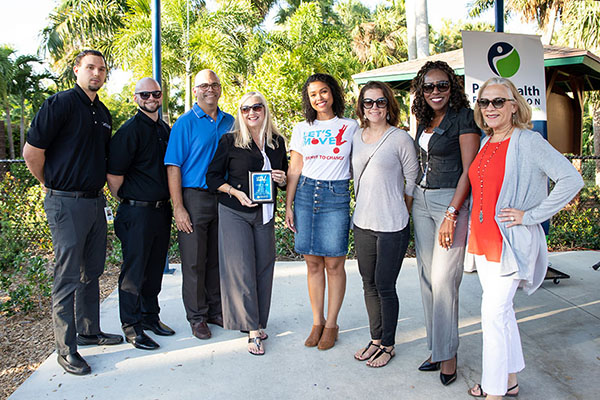 Palm Beach County residents logged more than 32 million collective minutes of exercise during March in the Palm Health Foundation's "Let's Move: Commit to Change Physical Activity Challenge." The challenge, now in its seventh year, inspires county residents to complete and log 30 minutes of physical activity each day during the month of March. More than 400 teams participated, twice the number of teams registered for the 2018 Let's Move challenge.
The top five teams that logged the most minutes during the challenge were recognized on April 10 at the Let's Move celebration event and awards ceremony at the South Florida Science Center & Aquarium.
The Village of Wellington was named the 2019 Let's Move Challenge Champion with 12,849,676 minutes logged. Other top teams were the City of Delray Beach, the YMCA of South Palm Beach County, the City of West Palm Beach and the City of Boynton Beach.
The School District of Palm Beach County was also a significant participant for the second year, engaging 39 schools and 19 district departments in the challenge and logging nearly one million minutes.
Other notable teams ranged in age from toddlers to seniors and came from all corners of Palm Beach County to show that anyone can partake in physical activity for health. The Palm Beach County Board of County Commissioners also formed a team to show their commitment to health and wellness.
To make the competition even more exciting, the Palm Health Foundation hosted a Let's Move video contest to inspire people to get physically active. The winner was Atlantic High School with an entry that was filmed and edited by students and featured an original song composed and recorded by a student. The video utilized song and dance to present ways to incorporate healthy lifestyle changes into daily routines.
The Palm Health Foundation's Let's Move initiative was originally inspired by First Lady Michelle Obama's 2010 national program to decrease childhood obesity. The foundation created the local challenge for adults and children to improve a variety of health issues through regular physical activity, including reducing the risk for diabetes and heart disease, improving mental health, and increasing chances for healthy longevity.
"Every year, our Let's Move challenge has grown with more schools, businesses, municipalities, churches, community teams and individuals coming together to focus on physical activity as an important component of overall health," said Patrick McNamara, president and CEO of the Palm Health Foundation. "As a community foundation focused on leading change for better health, our Let's Move challenge, and all of the activities we sponsor during the month, serve as inspiration for helping residents achieve their full health potential, both mind and body, for lifelong wellness."
Let's Move sponsors were Joe DiMaggio Children's Hospital, the Children's Services Council and Wisehaupt, Bray Asset Management.
For more information about the Palm Health Foundation, visit www.palmhealthfoundation.org or call (561) 833-6333.